Disclosure: This post may contain referral/affiliate links.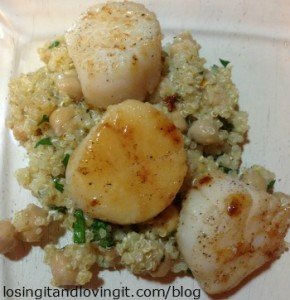 Thank you Giada de Laurentiis! Your recipe was a hit.
I was watching The Food Network a couple weeks ago which I have been doing quite a bit lately and happened to stop on Giada's show.  She was making her Grilled Scallops with Orange Scented Quinoa and it looked tasty not to mention it looked like something simple enough for this NON cook to make.
Well tonight was the night…..I set out on a mission, just praying the meal would turn out.  With hubby's help to make sure the scallops were cooked to perfection (I haven't made it to the point of learning how to cook fish yet), I whipped up everything else.
I haven't cooked quinoa much so I was a bit nervous that it wouldn't turn out but I did just fine. The one thing I have needed the last few times I have been cooking was a zester. I have been trying to use the smallest cheese grater we have but it just doesn't work ha ha Other than that, the whole recipe was easy enough for me so it made me very happy.
I just turned the music up on my iPhone and went to town.  Most of you know that I am just now testing the waters and learning how to cook.  I'm having fun and was so happy this dinner turned out so great.
I didn't even have to ask Kev what he thought, he ended the meal with "This was AWESOME". That makes me smile.  This one was definitely a winner.
Speaking of a zester, what type would you recommend? Would something like this one work?
Update: I bought the zester above
and I love it! I use it often. It's a great kitchen utensil to have on hand for things like ginger, garlic, citrus zest, chocolate, hard cheese, coconut and so much more…
Giada has a healthy recipe cookbook if you didn't know!  Giada's Feel Good Food: My Healthy Recipes and Secrets
is on my Amazon wish list. I love that many of her dishes in the cookbook are gluten-free, dairy-free, vegetarian and/or vegan too.