Disclosure: This post may contain referral/affiliate links.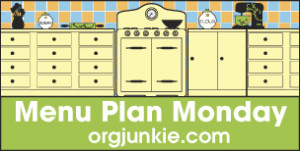 I have been doing OK sticking with the menu plans I have been blogging about.  I can't believe it although one meal usually doesn't make it for the week and I just move it to the next. This has happened the past two weeks.
I am finding lots of great recipes on Pinterest. Even some desserts I would like to try like homemade Fig Newtons. We love those and I imagine making it ourselves would be healthier.
We are still juicing which is a lot of fun.  Had some discussions on juicing this weekend and decided most likely that we won't be doing a 10 day juice fast for quite some time if at all.
We are thinking that we could do something like one or two juices a day and then have a healthy dinner.  Then maybe do a 3-5 day juice fast but we'll just keep playing around with new juice recipes. Right now, the weekends are easiest to make them so that's what we'll do.
I'm still shocked that I'm starting to enjoy cooking. Now if we just had a bigger kitchen life would be much easier.  Mom and dad are treating us to a nice new kitchen cart for our birthday's so that will go in the small dining room and we'll move the microwave from the kitchen out onto that.  And Kev brought home his little office fridge from work so we could put all our juicing goods in there. What a guy!
Here's the tentative menu plan for this week:
Monday-
Tofu (me)/Chicken (Kev), Basmati rice and buffalo cauliflower
Tuesday-
Quinoa vegetable 'fried' rice plus tofu (me) & chicken (Kev)
Wednesday-
Breakfast for Dinner (probably eggs/biscuits)
Thursday-
Homemade veggie burgers, sweet potato fries and veggie
Friday-
Spaghetti w/'meat'balls, garlic bread and salad
Hit up Bed, Bath & Beyond this past weekend and bought a zester, an olive oil bottle and of course more Keurig K-Cups.  A Hawaiian Blend, something new to us.  Do you love BBB and Keurig as much as I do? LOL
Getting closer to making a decision on a processor/blender.  I have heard great things about the Ninja Mega Kitchen System so that is leading the pack right now.  Do you have a Ninja Kitchen System?
What is on your menu plan this week?