Disclosure: This post may contain referral/affiliate links.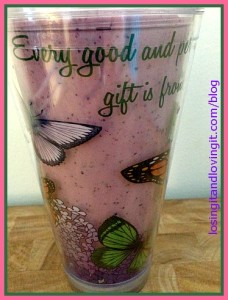 I love making smoothies for breakfast! Who am I kidding, I love smoothies ANY time of day.
I have made a variety of healthy smooties over the years since starting this blog.  I even came across pictures of me with my first green smoothie.  Too fun!
Last week I made this Heavenly Berry Smoothie (name idea came from the pretty cup my mom gave to me for Christmas).  It has a sweet bible verse on it with beautiful butterflies.
The verse is "Every good and perfect gift is from above" James 1:17
In the smoothie cup went the following ingredients:
Blueberries
Strawberries
Greek Yogurt
Vanilla whey protein powder
Water
Ice
Then I used the Magic Bullet
to blend it all up.  So thick and tasty!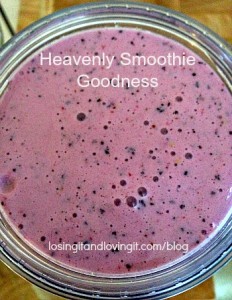 Do you have any favorite fruity healthy smoothies?
Feel free to link up in the comments!