Disclosure: This post may contain referral/affiliate links.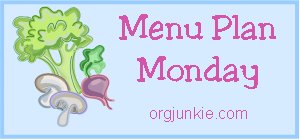 Had a hard time coming up with all the meal plans this week.  It's going to be a busy week so I kept it pretty simple!
Hopefully the lentil loaf will be simple.  I really want to make it and have it turn out good.
Oh and last week hubby's favorite meal, that he can't stop talking about was the Sweet Potato Quinoa Black Bean Burgers with Cranberries that I made.  So.so.good.
After this week, I think we'll do a new veggie burger every week.  Lindsay has some yummy burger recipes that should be fun to try.
Here's this week's menu:
Monday- Breakfast for Dinner (probably Sweet potato pancakes)
Tuesday- Lentil loaf with cauliflower potatoes and veggie
Wednesday- Tuna & Soup
Thursday- Fish, baked potato, veggie
Friday- Tacos
Trying to use what we have on hand instead of doing any more grocery shopping for a while.  Breakfasts will mostly be Visalus protein shakes with banana for both hubby and myself.
As for lunches, I hardly know what's in store. Sometimes I just don't feel like eating anything big so I'll have protein shakes but I want to be able to start sending lunch to work with Kev. That means we'll need to start doing Sunday meal prep for the week.
I have been really inspired by all the food prep posts on The Lean Green Bean.  Now I just need to get hubby on board so I don't have to do it all myself LOL
What is on your menu this week? Have you found any awesome recipes lately?