Disclosure: This post may contain referral/affiliate links.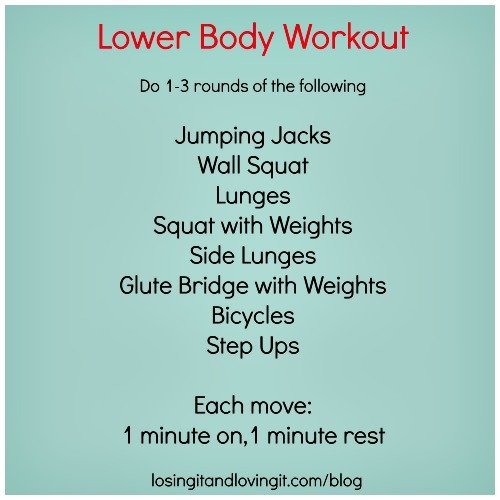 Yesterday I threw together a quick lower body workout to do in our home gym.  I loved it!  Today I am feeling it in the tush oh yea!
Now remember I am not a personal trainer so you'll be doing this at your own risk lol
For the squats with weights, I held on to the weights as they rested on my shoulders.  And the glute bridge with weights is this Glute Bridge with Triceps Extension.
I actually only did 1 set because I have to be cautious with my knees and by the end I was already feeling some strain. One set was 16 minutes and then I did some rebounding after that.
In addition to doing 1-3 sets, you could change the amount of time too.  I did 1 minute on, 1 minute rest.  But that 1 minute rest might be too long for some. You could change that to a 30 second rest period.
This is one of the best lower body workout routines I have done except for of course the ones I had when Tina was my personal trainer.  And speaking of online personal trainers I am gathering a list so if you know of any who are accepting clients or you are one, let me know so I can add your info to the post I'm working on.
Hope you enjoy this workout.  I'll definitely be doing this one more.
Do you have any favorite lower body workout routines?