Disclosure: This post may contain referral/affiliate links.
This week I'm struggling with the menu so it might just change as the week goes on.  It's going to be a really busy week.
I have to tell you though the lentil loaf with cauliflower mashed 'potatoes' that was on the menu last week turned out AWESOME!  Kev loved it and we had leftovers this weekend and it was just as good.
We also got our new kitchen cart, the early birthday gift for us from my parent's all set up and in the process organized a few kitchen drawers and cabinets.  Can't wait to get more of the kitchen cabinets cleaned out so I can easily go through and make a list of everything we have on hand.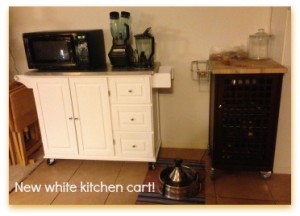 Do you keep a list of everything you have in your cabinets and fridge? It just seems like it would be so much easier to plan out meals if I knew exactly what we had.
Anyway, I would love to hear what everyone has planned for their meals this week.
Here's the tentative menu plan for us:
Monday- Salmon, baked potato w/veggie
Tuesday- Quinoa Vegetarian Chili
Wednesday- Pizza
Thursday- Shrimp & veggie pasta
Friday- Veggie Burgers & sweet potato fries
I did do a little baking this weekend.  Tried my hand at Mama Pea's Caveman Cookies.  They came out nothing like hers but they do taste good. Needed some chocolate in my life!