Disclosure: This post may contain referral/affiliate links.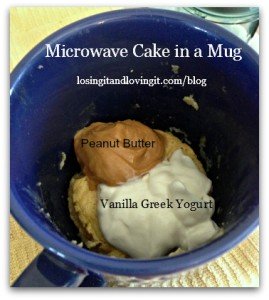 Have you ever tried a cake in a mug?
I have heard about making protein cakes/muffins in a mug and thought I would throw something of my own together.  Who would have ever thought I might try to come up with my own recipe?
I think my protein mug cake turned out just fine.  I might not use a whole egg next time rather just the white but we'll see.
I look forward to trying more varieties too.  Next time I might add oatmeal and cocoa or chocolate protein powder.  So many ways you could try this one out.
Here's the recipe:
Almond Vanilla Cake in a Mug
1/4 cup almond milk
1 egg
vanilla (a quick pour, didn't measure)
1/2 teaspoon baking powder
1 tablespoon flour
1 scoop protein powder
Then follow these steps:
Mix everything together well in a mug.
Put in microwave 1-2 minutes.
Watch that the cake doesn't go over the top of the mug!
I put about a heaping tablespoon of vanilla Greek Yogurt and a tablespoon of peanut butter on top.
Fun snack for today.
Have you ever made a microwave cake in a mug?