Disclosure: This post may contain referral/affiliate links.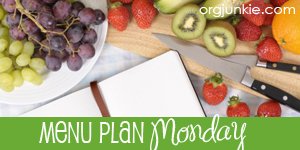 Going to try and use everything we have at home and not do any grocery store stops this week.  Picked up a few things at Walmart this weekend like tomatoes and spinach but going to dig in and use what we have at home.
We'll keep a few things we usually have on the menu plan like breakfast for dinner, veggie burgers and pizza. Here's the tentative plan.
Monday- Breakfast for Dinner (we are thinking waffles)
Tuesday- Veggie burgers (moving over from last week since we didn't get a chance to make them)
Wednesday- Pizza
Thursday- Seafood Tacos
Friday- Spaghetti and Meatballs (veggie of course) plus garlic bread & salad with homemade dressing
I would also like to make a banana bread and these homemade Fig Newton's since I have not had a chance to make them yet. We'll see how the week goes and if I have time.
Do you have any healthy banana bread recipes?