Disclosure: This post may contain referral/affiliate links.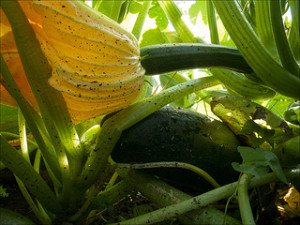 *Guest post
With Summer just around the corner and many looking to get in shape for bikini or pool season, diets low in fat and calories are what's in store. We heart a good veggie recipe and as such decided to come up with one that uses a Summer staple, is easy to make and is good just about anytime of the day – whether as an appetizer, stand alone snack or as a side dish to your entree. So with that in mind, we have chosen a simple yet hearty Zucchini recipe that anyone can make on the fly and calls for just a few simple ingredients.
This recipe should be in every vegetable gardener's kitchen file for the height of the zucchini season. It makes a virtue of abundance – just when you need it. Vary the proportions to fit your family or your zucchini crop.
Summer Zucchini Blast Recipe
For 4-6 servings
Large skillet or sauté pan
Paper towels
Breadboard
Hand grater or food processor
1 ½ to 2 lb. zucchini squash
Salt
2 Tbsp. canola, safflower or olive oil
1 or 2 garlic cloves, crushed or minced
6-8 basil leaves or 2 large sprigs of basil
Grated cheese, if desired
1 Tbsp. butter, if desired*
Cut off the stem and blossom ends of the zucchini. Coarsely grate the squashes. Lay out a double layer of paper towels on a flat surface and sprinkle it with salt. Spread the zucchini over the towels, salt the top of the zucchini shreds and cover with more paper towels, pressing down gently. Place the breadboard on top of the towels and leave for ¼ – ½ hour, to draw as much juice from the zucchini as possible.
Rinse the salt from the shredded squash and pat it dry with more towels.
Pour oil in the skillet and set over medium heat. Add the squash and the garlic cloves. Saute, stirring the squash until shreds soften slightly and the mixture resembles mashed potatoes. Chop the basil coarsely, add to the skillet and sauté one more minute. Serve hot, with a little grated cheese if you like.
*The neighbor who makes this often uses both butter and oil in the skillet, and plenty of both – delicious but not so healthy. For the same flavor with a healthier slant, garnish each portion with a thin curl of butter just before serving. Learning to use butter as a seasoning lets you keep the flavor while controlling the calories.
For very large, seedy zucchini, cut them in half lengthwise and remove the seeds by running a spoon down the center of the cut squash.
When garden zucchini is at its most abundant, increase the amounts of everything and garnish the serving platter with grape or cherry tomatoes and additional basil leaves. This is a nice, yummy (and healthy) recipe perfect for the cooler and lighter Summer days ahead. Try it today.
For more recipes like this, visit our site and perform a search for your fave ingredient. Enjoy.
*image source (via Flickr)