Disclosure: This post may contain referral/affiliate links.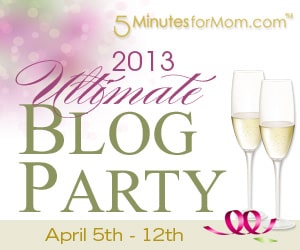 My online friends Susan and Janice throw the Ultimate Blog Party every year and it's been a while since I have participated.  This post is where you're going to learn a bit more about me.
I welcome all of you dropping by from the blog party.  If you haven't checked it out yet, you don't want to miss all the fun.  Go now and make new friends AND win cool prizes!
WELCOME
A big hello from Chicagoland where we can't wait for Spring. The weather is up and down lately so hopefully it won't be long until we are enjoying dinners on the back deck.  I'm also hoping to do some vegetable gardening this year.
I'm Angie, 41, and in fact, I just celebrated my birthday this past Monday, April 1st.  I'm a wife, step mom of two and grandma.  We have a Blue and Gold Macaw, turtle, 2 cats and my stepson's cockatiel lives here.
I have been working from home since 2001. I started out in direct sales doing home parties then moved on to working only online.  I am a blogger, virtual assistant and we have local clients plus other websites as well.  Keeps us busy that is for sure.
We love to travel.  Our favorite places to travel are Jamaica, the Virgin Islands, Florida and of course we always love to go to Oklahoma to visit family there.  Our granddaughter is growing up so quickly!  We have a family travel blog and would love for you to check that out as well.  And you can keep up with our travels on our Newton's Travels Facebook page.
I'm into weight loss and fitness and am working on losing 100+ pounds.  I love spinning (cycling) and any type of boxing.  I'm also a proud ambassador for Polar USA and FitFluential.
Here's a quick little video with a few other things about me:
THE BLOG
This blog started out as my personal weight loss journey and has grown into much more. Losing It and Loving It turned 5 this past February and I'm excited to see we are still going strong.  I'm so thankful for everyone who has been here supporting me all this time and I look forward to getting to know many more of you.
You'll find weight loss and fitness tips, healthy recipes, product reviews, favorite workouts, guest posts and much more here on the blog.  Feel free to sign up for my mailing list (fill out the box in the upper right hand side of the blog) to be notified of blog posts, get free recipes, motivation and inspiration.
I want us all to live the best life possible.  To those who struggle with your weight, I get it and I'm here to help support  you in your journey to living a healthier lifestyle.  Doing it together is much more fun than going at it alone.
CONNECT WITH ME
You can connect with me in many ways!  I'm on Twitter, Facebook, Google+, Pinterest and if you are on Instagram, follow me! I'm working on stepping out of my comfort zone and doing more video so you can also find me on You Tube.
I look forward to getting to know many of you over at the Ultimate Blog Party.
Party on!