Disclosure: This post may contain referral/affiliate links.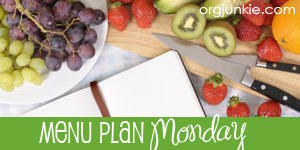 This week is Kev's birthday so we are celebrating all week and next. You know how we roll in this household. This menu plan is really play it by ear but I did come up with some basic meal possibilities.
We'll go out for his birthday on Thursday. I already bought the movie tickets at the iPic Theater we love so much where you have dinner and a movie. Of course we are members and buy premium seating too.  Can't wait to see GI Joe, have you seen it?
So this is the plan so far this week:
Monday- Fish Tacos
Tuesday- Veggie burgers/sweet potato fries
Wednesday- Kev's choice (he has to cook since I am swamped with business calls)
Thursday- Movie Night/Dinner Out for Kev's birthday
Friday- Veggie 'Fried' Rice w/Tofu (me) & Chicken (him)
We'll see how that plan plays out.  Last week did not go as planned but we keep trying.
Oh and last week I got a nice goodie sample box from KIND Snacks.  If you didn't see all the goodness, head over to my Facebook page. Yum!
They have yummy bars and clusters.  I love the few I have tried so far, the Madagascar Vanilla Almond and the Dark Chocolate Nuts & Sea Salt. Oh my! You can read about their health benefits too.
I was a bit worried about the stickiness of the bars with my bad teeth but I did fine.  They are tasty and filling.  Go check them out when you get a chance.
What is on your menu this week? Have you tried KIND snacks?


P.S. Last day for this awesome HALF OFF sale at Menu Planning Central.