Disclosure: This post may contain referral/affiliate links.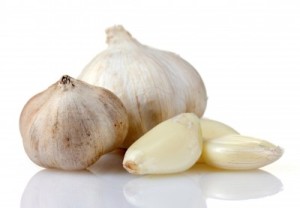 Today is National Garlic Day!  I can't get enough of garlic, in any form. It's in pretty much every meal we make.  And we drop garlic cloves in our olive oil which was a fantastic idea thanks to hubby.
And I'm sure you would link I was crazy if I told you I love the smell of garlic on my hands. Ahhhh it stays for days. Yep, clearly crazy.
Not only does garlic taste awesome in almost everything, it has some great healthy benefits.
Health Benefits of Garlic:
Cardiovascular
Anti-Inflammatory
Antibacterial & Antiviral
Cancer Prevention and more!
You can read about all these benefits here.
WebMD says that garlic is also used for preventing tick bites, hayfever and lots more. And of course they tell you about the side effects of it too. Oh and did you know that the Ancient Greeks gave it to Olympians for strength? Cool beans! Now if I could only remember where I read that. Darn!
Some of my favorite ways to use garlic is when I'm cooking Brussels Sprouts and in homemade pasta sauce.  I love to add it to my cauliflower potatoes too. Yum!
You can find tons of recipes and other tips on ways to use garlic over on Pinterest.  And I came across this white bean and roasted garlic soup that I must make.  Does that not sound good?
How do you like to use garlic?