Disclosure: This post may contain referral/affiliate links.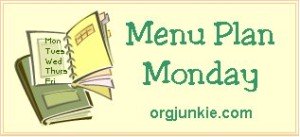 This week is going to be another busy one. When is it not? So as of right now we are not sure what days we'll have what but I'll list the ideas for the week.
We are not liking the menu planning thing right now. Having things planned out like we have been has been driving Kev nuts.  Maybe once I start doing some meal prep it will be better.  Food already made intrigues me although I'm still a bit nervous how fresh it will taste days later.
This week we are thinking of having the following:
Veggie meatball sandwiches
Shrimp with rice and veggies
Breakfast for dinner
Salmon, baked potato & veggies
Chicken (Kev)/Tofu (Me) & veggies
Need some cooking inspiration!  I was doing really good for a while but then business is picking up so it's probably a really good time to start really looking into meal prep. Maybe even if we just start prepping for lunches to start. We'll see.
Recently I had the chance to review the Nasoya Naoynaise and Nayo Whipped products.  The verdict is still out for me. There is another brand I tried before this that I really liked and am still trying these in various ways.  I have tried their tofu in the past and love it.
They have an awesome list of recipes on their site so that helps. I really want to try their Creamy Italian Dressing recipe. Yum! Have you ever tried any Nasoya products?
So there's our potential meal plan for the week.  Hopefully simple and easy!
What's on your menu?