Disclosure: This post may contain referral/affiliate links.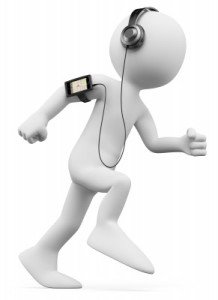 I personally cannot workout without some great, upbeat music.  I know a lot of people don't need music to workout but I am definitely not that person.  I love music period.  It gives me the energy I need to get my workout done every time.  I also listen to it almost all day at home while I work except for when I have to really focus on writing.
I love all kinds of music.  It's fun when Chris sends over each month's list of favorite workout songs.
He says, "Collaborations reign in this month's workout playlist. Justin Bieber lent Will.I.Am a hand on the latter's latest. Italian super producer Alex Gaudino turned the mic over to Jordin Sparks. Lastly, Pitbull and Christina Aguilera urged folks to seize the day–while seizing, for themselves, the hook from '80s classic "Take On Me.""
The Top 10 Workout Songs
April 2013
Here's the full list, according to votes placed at Run Hundred, the web's most popular workout music blog.
To find more workout songs, feel free to check out the free database at his RunHundred.com website. You can browse the song selections there by genre, tempo, and era to find the music that best fits YOUR particular workout routine.
What is your favorite workout song right now?