Disclosure: This post may contain referral/affiliate links.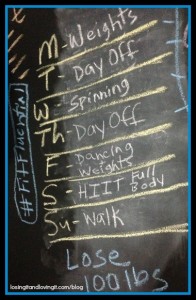 This week was a pretty good week considering that I took 2 days off.  My knees are not feeling great with some squats I have been doing.  Have to modify because I don't want to get hurt or make it worse.
Best Body Bootcamp is going great!  I'm up in the air on whether I'll participate in the next round (I have participated in them all so far) because I'll be traveling a lot over the next one.  But I love the support and everything about it so we'll see.
This week my favorite workout was spinning and the HIIT workout.  Doing well with keeping track of my food on My Fitness Pal although I get easily frustrated if I can't find a food and I'm no good at math so figuring out servings is making me crazy when it's less than the normal serving. I'll keep working at it.
Had a little fun with the home gym chalkboard wall this week.  It's on my You Tube channel (and yes I have a long way to go on the channel and videos).  If you have any vide/You Tube tips, I'm all ears. Feel free to tell me in the comments.
Here are my workouts for the week:
Monday-
*Weights (BBB pull workout)
Time: 26 min
Calories burned: 233
Tuesday- Day off
Wednesday-
*Spinning
Time: 30 min.
Calories burned: 410
Thursday- Day off
Friday-
*Weights (BBB push workout)
Time: 20 min
Calories burned: 214
*Dancing
Time: 10 min.
Saturday-
*HIIT (BBB Full Body)
Time: 25 min.
Calories burned: 423
*Moved 25 lb rocks outside
Time: 44 min.
Calories burned: 619
I would consider that a major weights workout!
Sunday-
*Walking
Time: 1:28
Calories burned: 819
Today we did a nice long walk with a friend at a local forest preserve.  It was such a beautiful day and great to get out of the house.  We are thinking of taking a nice long walk like this every weekend at a different place each time.  Fun!
What was your favorite workout last week?  Got any goals this week?

P.S. If you want to stay accountable with your workouts, come join us on the Losing It and Loving It Facebook page.