Disclosure: This post may contain referral/affiliate links.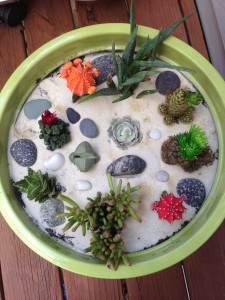 Today was a fun day!  Our initial plans were to go walking and have a picnic but the weather here in Chicago was way too chilly for that.  Decided to pick up some plants and flowers at Home Depot instead and plant those.  Aren't they pretty?  Probably shouldn't have carried that big plant pot up to the deck because I pulled something in my shoulder/neck.  It was not light.
My plans for vegetable gardening this year when out the door. Way too much going on for me to plan and focus on that. Plus with travel how in the world would I keep all the veggies alive?
We just got our last phase of Best Body Bootcamp workouts.  Once again it's been great but I had to take a break this week and get outside, away from the home gym.  Needed to change things up a bit because I felt myself losing interest. This happens a lot when I do the same things over and over.  I love the bootcamp because Tina changes it up so this has nothing to do with her/bootcamp.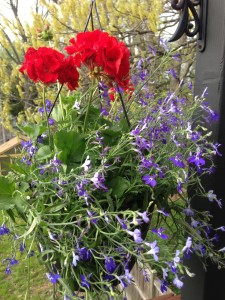 The next few months will be full of travel so I'm most likely going to skip the next round of bootcamp.  But it's sure to be a great one so you should definitely think about joining up.
Monday-
*Strength (moving bricks outside)
Time: 1:10
Calories burned: 956
Amazing calorie burn but I moved just about 50 bricks, each about 25 lbs and walking up and down the street with them in a wheelbarrow was not easy in addition to lifting them in and out out of it either. Phew!
Tuesday-
*Mowing lawn
Time: 1:18
Calories burned: 1305
Wednesday-Thursday- Day off
Friday-
*Strength Total Body (The Traveler's Workout by Fitness Glo)
Time: 30 min.
Calories burned: 317
This workout was awesome.  I'm part of a sponsorship with the company and they have given me free access to review their site/workouts AND we'll have a giveaway this month too so be on the lookout!
Saturday-
*Gardening
Time: 60 min.
Didn't bother to wear the heart rate monitor but I'm sure I burned a nice amount of calories.  I really needed to get out of the home gym this week so that is why you saw a lot of out door work.
Sunday-
*Housework
Time: 60 min.
Lots of vacuuming!  Again not a normal workout but I kept myself moving.
So I was kind of all over last week with my activity but it felt good! How did your week go?  Did you have a fun Mother's Day?