Disclosure: This post may contain referral/affiliate links.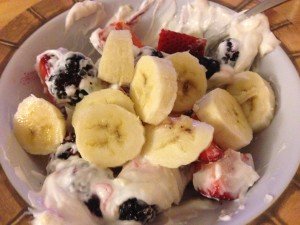 Start Your Day With a Healthy Breakfast
Breakfast is the most important meal of the day. You have been sleeping for several hours overnight so your body needs some fuel to get going for the day.
Breakfast gets the metabolism up and running. Without a meal when you wake, you can remain foggy headed, lack concentration and feel sluggish all day.
You are constantly trying to catch up with no gas in the tank. Instead, have a nourishing breakfast.
We know that it can be hard to fit in breakfast when you are busy and it seems easier to hit the drive through but unfortunately, not all fast food choices are healthy for you. Plus eating at home is easy on the bank account.
Breakfast Tips
First, choose meals that are easy to prepare ahead of time. You can fix your breakfast the night before so that you just have to pop it in the microwave to warm it up. Or you can make a quick batch of overnight oatmeal.  This post is a few years old but still has great info.  I love overnight oats.
Make big portions of other meals and divide it up for the entire week. That way, breakfast is always easy for you and the family. This is smart for portion control too.  Planning ahead is smart when it comes to making sure that you get a balanced breakfast.
Breakfast Food Ideas
Here are some ideas for breakfast foods that will nourish your body and give you energy.
Smoothies – fruit smoothies are full of antioxidants. They fill you with energy. Try colorful berries like strawberries, blueberries and blackberries. Smoothie ingredients can be placed in a cup ready to be blended with yogurt and ice in the morning.
Granola cereal – Place it in a bag. You can top a cup of yogurt with it, add it to oatmeal, and make granola bars with it. Or, you can eat it alone. Whole grains give you sustained energy throughout the day. The fiber fills you up for hours.
Eat whole fruit – When all else fails, eat an apple or a banana. Breakfast doesn't have to be a big production BUT you do need to eat something good for your body. Fruits like apples and bananas are full of fiber so they fill you up and are much better than drinking fruit juice. Dried fruit can also be used as a quick snack later in the day but watch out for the sugar.
Oatmeal – One of the best overall breakfast ideas, a hot hearty meal to rev up your engine.
Start your day right….with breakfast!
What is your favorite breakfast?