Disclosure: This post may contain referral/affiliate links.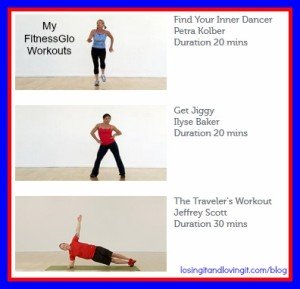 I'm excited to bring you some great info all about FitnessGlo.  Although this is a sponsored post, I have personally used the site and had a great experience so all opinions are my own.
Online Fitness Classes
FitnessGlo was created for women by women. And you'll notice there are men trainers involved in the online fitness program doing the video classes too. I like the mix!
The site has quite a few options for classes which makes this the perfect place to be when you are short on time. If you lead a busy lifestyle with a packed schedule, this is great for you to be able to sneak in a workout.
Lately I haven't been feeling the gym (can you relate?) and was wanting to get outside more.  I did that plus I added in a few quick FitnessGlo classes that I could do right from our living room.  It was just the right balance for me. And I'm getting ready to travel so not only is it a great option since I am short on time preparing to leave but I'll be able to get in quick workout bursts while I'm away.
The first FitnessGlo workout I did was The Traveler's Workout, a total body strength workout with Jeffrey Scott.  It was only 30 minutes and I was able to follow the video along on my laptop in the living room.
The Traveler's workout is perfect when you're on the go or on vacation, even in a smaller hotel room. Something hubby and I could definitely do away from home.  And you can easily use a towel instead of a mat.  Jeffrey was a fun instructor and it made me want to do more of his workouts.
Even though some of the classes are shorter in duration they can easily be combined with other classes to make a longer workout. You might feel like dancing the day away so choose a few dance workouts and you're all set.  Yes you CAN get a good calorie burn dancing. I don't know why everyone doesn't do it.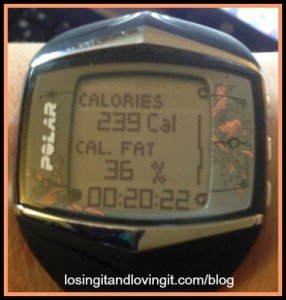 I also did the 20 minute Get Jiggy cardio dance workout with Ilyse Baker and loved it.  Again, in the living room while watching the fitness class on my laptop.
I just felt like dancing and this one looked good.  I couldn't get the moves immediately but I think if I did it again, I would be able to.
A few of us were talking over on Twitter about not being coordinated but it's OK if you aren't as long as you just keep moving.  I found a few more dance workouts that I added to the playlist option so I can easily find it when I log back in.
There are videos where the instructor is alone (from what I could tell) and some where there are others doing the workout with the instructor.  My choice would be instructor only.
You can even track your workouts to see how balanced they are through cardio, strength and stretch.  It also keeps track of the hours you workout AND has a calendar to see all you have accomplished.
There is an option to schedule classes which I haven't done. But one of my favorite parts of the membership is that it keeps track of your history.  I can easily see what workout I did on what date and for how long.  Great for someone like me who keeps a weekly fitness journal like you see in my daily exercise logs. So if I wanted to go back and do one of those classes again, I don't have to search for it.
Like I mentioned I'm busy preparing to travel for a few weeks so I was looking for another quick workout to do today.  I did the Find Your Inner Dancer, cardio dance workout with Petra Kolber.  A quick and FUN 20 minute living room workout!
This workout was one I had added to my playlist for a later date.  It was easy to find and all I had to do was click play and get started. This workout looked like it was just the instructor but then I saw someone's arm and later they came into view but it was fine. I would do this workout again.
I am impressed with the service (I got a free 90 day membership) and how easy it is to use the website.  I highly recommend you check it out plus it's only $12 a month.  As a new member though, you are eligible for a 15 day free trial.  FitnessGlo has a wide variety that include workouts like Balance, Barre, Cardio (Athletic & Dance), Step & Strength.  You can see a quick preview of them on the website but to participate in the entire class, you'll need to sign up.
GIVEAWAY HAS ENDED Congrats Nancy!

FitnessGlo Giveaway

I have an awesome opportunity to give YOU a chance to win a FREE 90 day FitnessGlo membership. All you have to do is tell me in the comments which online fitness program/class you would be interested in doing.
Just go to FitnessGlo and either click on Style, Level or Duration to see what they have available. You can also read about each teacher by clicking on their name.
Get a 2nd entry by sharing this review/giveaway on your blog.  Then come back here and link up to your post.
You can comment until the end of day, Wednesday May 29th. I will choose a winner Thursday morning and will update this post.
What FitnessGlo class would you like to take?