Disclosure: This post may contain referral/affiliate links.
Werther's Original Sugar Free Candy
This review and sampling kit is sponsored by Werther's Original Sugar Free Candy.
Lots of creamy Caramel goodness in this one goodie box.  In the box came packages of Werther's Original Sugar Free candy in a few different flavors, coupons and a candy jar.
We have been enjoying sampling the different flavors.  There is something for everyone!
Classic Caramel
Cinnamon Caramel
Caramel Apple
Caramel Coffee
In addition to 0% sugar, each piece has only 3g carbs and only 8 calories. That is 40% fewer calories than the Werther's Original.  And one serving is FIVE pieces for a total of 40 calories.  They are smaller than I remember the original being but taste just as good.  I also love that they don't have that funky aftertaste most sugar free candies have. Score! And it doesn't hurt that they are pretty too.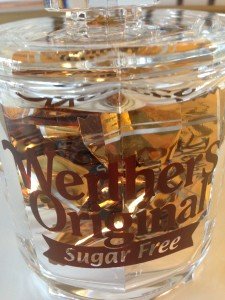 Werther's Original Sugar Free offers the taste satisfaction many people with diabetes crave.  And the reason there is no unpleasant aftertaste is because the caramels are made with the sugar alternative Isomalt and the sweetener Acesulfame-K.  Obviously I would not recommend having more than one serving at a time and I believe one piece is just enough to curb a craving.  I don't eat a lot of candy anyway but this is the perfect treat for me!
My hubby Kevin really liked the Werther's Caramel Apple the best. He said it truly tastes like a caramel apple.  I personally like the Classic Caramel and Caramel Coffee.  The Cinnamon Caramel is strong and you definitely taste the cinnamon.  I'm keeping a stash for Father's Day so my dad and mom can indulge a little too.
Like I mentioned, I especially love the simple fact that I can have ONE Werther's candy to totally satisfy my sweet tooth.  I have always struggled with dessert cravings after dinner and I'm most impressed that this tiny little candy takes care of that.
Overall experience? Great!  If you're looking for a tasty little treat, I would recommend them.
Here's a quick video I did about the candies, enjoy.

You can follow Werther's Sugar Free candy on Facebook and use hashtag #WerthersSugarFree on Twitter to get in on the fun conversation.
Would you like to win some sample bags?
Just comment below telling me which flavor you think would be your favorite.  Have you ever tried Werther's sugar free candy?  If so, what is your favorite flavor?


P.S. I'll stop accepting entries Sunday 5/19 midnight Eastern and will choose a winner Monday morning 5/20/13 and then send out your goodies not to long after that.  I can only ship within the U.S. at this time.