Disclosure: This post may contain referral/affiliate links.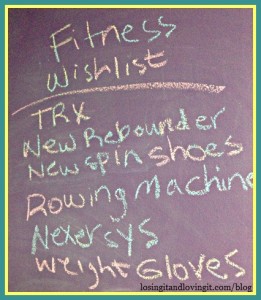 It's finally here!  I have said I was going to give you a virtual tour of our home gym and it's finally here.  Hope you enjoy!
You'll notice in the video that I keep a wish list on one of our chalkboard walls (like the one seen in this post).  We don't have a ton of room left in the home gym but the two big pieces of equipment I would like are a rowing machine and the Nexersys.  I would totally sell Slam Man (the electronic boxing partner)  if I could replace him with a Nexersys.  It's so cool, check it out.  It's what they workout with on the show NCIS.
I really wish we had windows in the garage but it will be a while before we get a new garage door.  I would like the next one to have windows across the top to let in natural light.  We still have some cosmetic things to do like take the door that goes from the garage to the house off to paint it and the same with the back door that leads outside.
The floor will also need to be redone as I jumped the gun and wanted to skip the sealing of the painted floor and now it's chipping.  Not a huge deal but something we'll fix at some point.
I'm thinking when the weather gets cooler we'll pull the spin bikes out under the back deck and spin outdoors.  We used to do that at the 1st gym we ever joined. They had a huge deck where we pulled all the spin bikes out and did the whole class outside.  Absolutely the best spin class experience ever.
I keep telling Kev I really want a disco ball in the home gym and maybe some strobe lights.  Yea right!  Imagine what a fun spin class that would be.
We also have a little cubby space that still has junk in it that didn't fit into the shed we built to house everything that was in the garage.  So once that is cleaned out, I think we might move all the weights and other accessories up in there to give us more space on the floor.  You know I would make a rowing machine and Nexersys fit.  Where there's a will, there is a way!
The home gym is one of the best investments we could have made.  Here's your virtual tour…
Do you have a home gym?  Are you a member of a local gym?