Disclosure: This post may contain referral/affiliate links.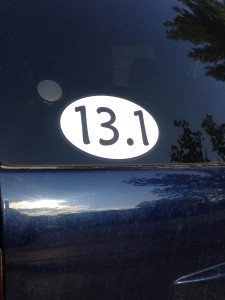 I left Saturday for Oklahoma City to visit family.  I'm actually here to watch our granddaughter while her daycare is closed for a couple weeks.
My workouts  this past week were mostly outdoors and quick workouts.  Didn't really keep track of them but I did do another FitnessGlo workout.  It was called Find Your Inner Dancer done by Petra Kolber and was only 20 min.  The perfect length for me since I didn't have much time to get things done before I had to fly out.
Good calorie burn this week although I didn't wear my HR monitor most of the time.  My goal for while I'm in Oklahoma is to stay active with our granddaughter and possibly get on their rebounder.  Maybe Zumba on the XBox is in order too. We'll see!
I picked up a new pair of fitness shoes, Brooks PureFlow, my ALL TIME favorite!  I have to wear men's size but I prefer their color choices much more than the women's.  While at the Running Depot, Kev thought I should get a 13.1 sticker for my 'new' Jeep so we did and I love it.
And be on the lookout for my June Better Healthy Living challenge posts.  The challenge starts June 1st.  Did you sign up for the next round of Best Body Bootcamp?  I passed on this next one due to all the travel I'm doing but would love to hear if you are joining in.
Going to make this short and sweet!  Hope you have a great week.