Disclosure: This post may contain referral/affiliate links.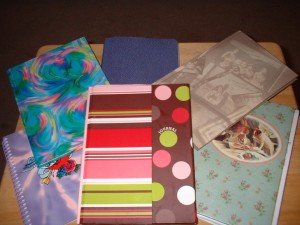 Can you believe it's week 3 in the Better Healthy Living Challenge?  The goal for this week is to keep a daily food and exercise log.
Exercise Journal:
Keeping an exercise journal will help you stay on track with your workouts. It will help you see how far you have come and motivate you to keep going.
I personally keep a daily fitness log.  I write down my workout, calorie burn and how I felt after the workout.
We have a chalkboard wall in our home gym where I write down my workouts for each day.  I also keep the info in draft on my blog to be able to share it at the end of the week.
I have even kept track of workouts on a calendar with colored markers.  You can do whatever way works best for you.
I find that keeping track of my workouts inspires me to keep doing better.  Writing down how I feel after every workout also helps me to see my progress.
It also helps to stay accountable to others every day.  You can join us on my Losing It and Loving It Facebook page for daily inspiration.
Food Journal:
I was keeping a food journal religiously for quite some time when I first started living a more healthy lifestyle.  Then I stopped but picked it back up recently. I don't keep a food log while I'm traveling or on vacation.
I'll be traveling for the next couple of months but I do plan on getting back to using My Fitness Pal once things calm down.
Keeping a food journal helps me stay on track especially when it comes to portion sizes.  I'm also shocked to see how sometimes foods you think are healthy don't even come close to being good for you.  You just don't realize these things until you start keeping a food journal and paying more attention to what you're feeding your body.
So it's time to go grab a journal and pen and start keeping track this week.  Tell us what you have learned about your exercise and eating habits while keeping a food and exercise log.
This is the Week 3 BHL Challenge post. Be sure to comment before next Monday, June 24th to let us know how you did this week.
You must leave a comment here for the opportunity to be entered into the drawing to win one of the cool prizes we are giving away during this challenge.
To be entered into the drawing for the Amazon gift card grand prize, head over to the Challenge Loop page and accept the challenge. Challenge rules are listed on that page.
You all are rocking this challenge!  Keep up the great work.

P.S. Don't forget to check out our sponsors.
Amazon Gift Card $50 (me!)
Craving Secrets ebook (Diana Walker has donated to every challenge so I truly appreciate her support)
ShaunT Fit Kids workout video (donated by Molly Ritterbeck, my challenge co-host helper this year)
Shakeology packets (2 winners, donated by Molly Ritterbeck)
One free year Premium membership to iBodyFit.com (from my buddy Franklin)
2 bike locks from Master Lock
Koss headphones
These prizes rock! Thanks so much to our awesome sponsors.