Disclosure: This post may contain referral/affiliate links.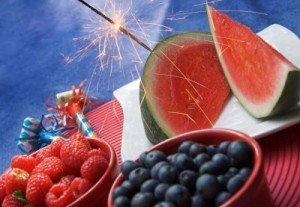 Are you getting ready for a big Independence Day celebration next week?  Here are some tasty and easy 4th of July recipes for you to try.
You'll find a variety of ideas for appetizers, lunch/dinner and dessert too.  We'll be on vacation in Florida for the 4th so I'm not sure what our 4th of July plans will be.
Here's a red, white and blue potato salad from Slim Pickin's Kitchen plus a vegan roasted sweet potato salad from On Tap For Today (cute blog name huh?).  And how about a black bean and corn salad?
You'll find a lot of fun 4th of July recipe ideas at Peas and Crayons.  Look at all the goods here!
Try some of these healthy Fourth of July recipes.
Ahhh Cilantro Jalapeno Hummus with Baked Tortilla Chips!  This Chipotle Corn Hummus sounds good too.  So glad others like it HOT like I do. Yum!
Berry Stuffed Breakfast Cupcakes Enough said.
4th of July recipe roundup Oh the frozen yogurt pie! How about these Fourth of July desserts? I like the idea of the triple layer smoothie. So cool.
The grilled shrimp kabobs and Balsamic grilled veggies from BodyBuilding.com's Healthy 4th of July BBQ guide sound delish!
Anne has more healthy 4th of July BBQ recipes and you might enjoy these spicy pineapple pork burgers. I now have a taste for deviled eggs. And cookies. Oh and check out her BEAUTIFUL patriotic strawberries.
And of course I couldn't NOT share some cute holiday decorating ideas too!
Love this table set up. OK last one.
So are you going to have a hard time deciding which recipes above you'll make for your celebration?  Don't forget to save them on Pinterest for next year too. If you decide to make any, drop back by and let us know.
Hope you all have a great 4th. Be safe and enjoy.
What are you planning to cook for the 4th?


P.S. I leave you with my friend GiGi's hilarious condiment and hot dog videos.