Disclosure: This post may contain referral/affiliate links.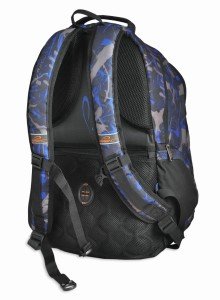 Have you heard of Airbac?
The company sent me one of the best travel backpacks I have ever used.  You can check out my review on our travel blog (all opinions are 100% mine).
I wanted to share a little about the company and sport backpacks here though.  They have quite the variety for almost any need you can think of.
and you could definitely use these backpacks to carry all your stuff to the gym!
I'm traveling quite a bit lately and have used it a lot.  I tend to OVER PACK and had no trouble doing that with this backpack.
Definitely coming in handy as we travel this week.  Perfect for us to pack up stuff to carry to the beach, SeaWorld and the NASCAR race today.
The Airbac backpacks have a patented air support system.  It's like you're carrying half the weight!  It's true.
Check out this cool technology:

I have their Ring backpack but the Journey would work well for sports/fitness.  I only chose the Ring because it fits a larger laptop.
I know quite a few of my readers love to hike so definitely check out Airbac's hiking backpacks.  The Wander (check out the orange, I love it!), Blazer and Troop backpacks would be great for that sport.