Disclosure: This post may contain referral/affiliate links.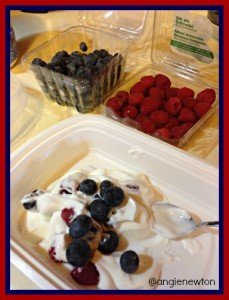 Yesterday I made some Greek yogurt covered blueberries and raspberries and froze them. I was inspired by this on Pinterest.
First I set out the blueberries, raspberries and a plastic tray with a few dollops of Greek yogurt.  I dropped in the fruit and covered them with the Greek yogurt.
Picked them out and placed them in another container with lid. Then popped it into the freezer. Simple!
Did a taste test last night and they were OK. Nothing to write home about but a quick cold healthy snack.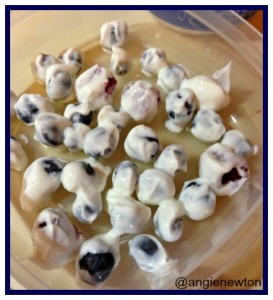 There are other frozen Greek yogurt covered fruits that I might try like these strawberries & grapes.  I imagine they would be better with a different kind of yogurt but mine will not go to waste. They will work great in a smoothie!
There are a lot of other fun options on Pinterest.  Like this banana one!
Here's what the blueberry/raspberry covered fruit looked like after frozen.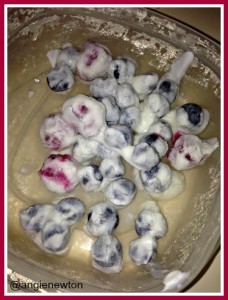 Remember this month is National Blueberry Month!  I shared more recipes and health benefits of blueberries too.
Have you ever made Greek yogurt covered frozen fruit?  If so, any tips?