Disclosure: This post may contain referral/affiliate links.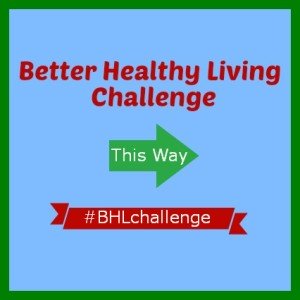 Better Healthy Living Challenge: Check in #3
We are now to week 3 of the challenge and before you know it, July will be over. Thanks to all of you who participated in the NUTRITION challenge last week. Be sure to do your check in's before the challenge is over so you can be entered to win some fun prizes.
This week our challenge is better health. We can all stand to make more healthy changes in our life so this week we'll focus on that.
Here are some ideas:
Get more sleep. Set a bed time and stick to it!
Take time out of the day for yourself
Set up a long awaited doctor's appointment
Enjoy dinner as a family
Try out a meatless Monday
Start and keep a personal health record (keep track of all medications, allergies, food journal, exercise habits, etc.). You never know when this will come in handy!
Get some HAPPY in your life.  Did you know laughing lowers blood pressure and can also boost your immune system?
Now take 4 minutes and GET HAPPY with Pharrell Williams:
Living a healthy lifestyle can sometimes be a challenge but when you have others who support you and you have fun, it's much easier. Please don't forget to check in and connect with others working on making healthy changes through this challenge.
Just comment below or on your social media channels using the hashtag #BHLchallenge for your chance to win some cool prizes. Tell us below what healthy lifestyle changes you made this week.


We want to hear how you did last week!  Don't forget to do your Week 2 check in.  If you're just hopping in on the challenge, you can see more of the specifics about the challenge in that post.
My goal for last week was to stay on top of taking my vitamins.  I did well for a bit but I forgot some days.  Why is it so hard to remember?  Got any tricks? Oh and I said I was going to make one new meal….nope didn't happen but I did stick with my juicing at least once a day and weighed in on Sunday and lost again. I have lost almost 16 lbs since June 1st so that's pretty exciting.
What is your goal for this week?


Shout outs go to:
**Momentum Jewelry for donating a wrap bracelet!
**Glenneth at Let's Talk and Walk for donating a Cool Case Thermal
and
I'm donating a $50 Amazon e-gift card!
P.S. We are still accepting prize donations. Contact us if you would like to share your product with our challenge participants.