Disclosure: This post may contain referral/affiliate links.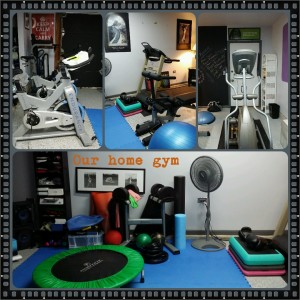 The home gym needed a change. We decided to rearrange it a few weeks ago. Here's the original home gym setup.
I really love having a home gym although we have taken a break from it lately off and on. I have been doing other things to keep moving like mowing the lawn, walking, etc.
Having a home gym is a lot more convenient for us. And although I miss some fitness classes we used to take, I wouldn't change it. We still have some work to do in there that we never got to.
We need to take the doors to the outside and inside off to spray paint them and we ultimately will need to redo the home gym floor. We never seal coated it after painting so that's on the list too.  With all the various weather conditions we have here in Chicagoland, the posters/pictures keep coming off the walls so we have to re hang those as well.
We also have a cubby that is still full of stuff that needs to move to the shed outside once we add more shelves to that.  That will hopefully be happening after vacation because there is a 1 or 2 person sauna on Kev's Christmas wish list. I would like for him to have that so we have to get moving on the shed shelves.
There is an outdoor space right out the back door of the gym that we would ultimately like to set up with a hot tub/jacuzzi, faux grass, a cover (it's under our deck) and fun lights. No clue when that will happen since those hot tubs are pricey.  I would like something like this one. But this Plug and Play
hot tub might be more in our budget lol Not sure how I feel about the plug in ones.
I did a quick tour of the home gym now that is has been rearranged.  It's blurry because I'm still trying to figure out how to use the video on my Note 3. One day hopefully I'll get them to look good.
Be on the lookout later this week for my post on the best home gym advantages. We really love the ours!