Disclosure: This post may contain referral/affiliate links.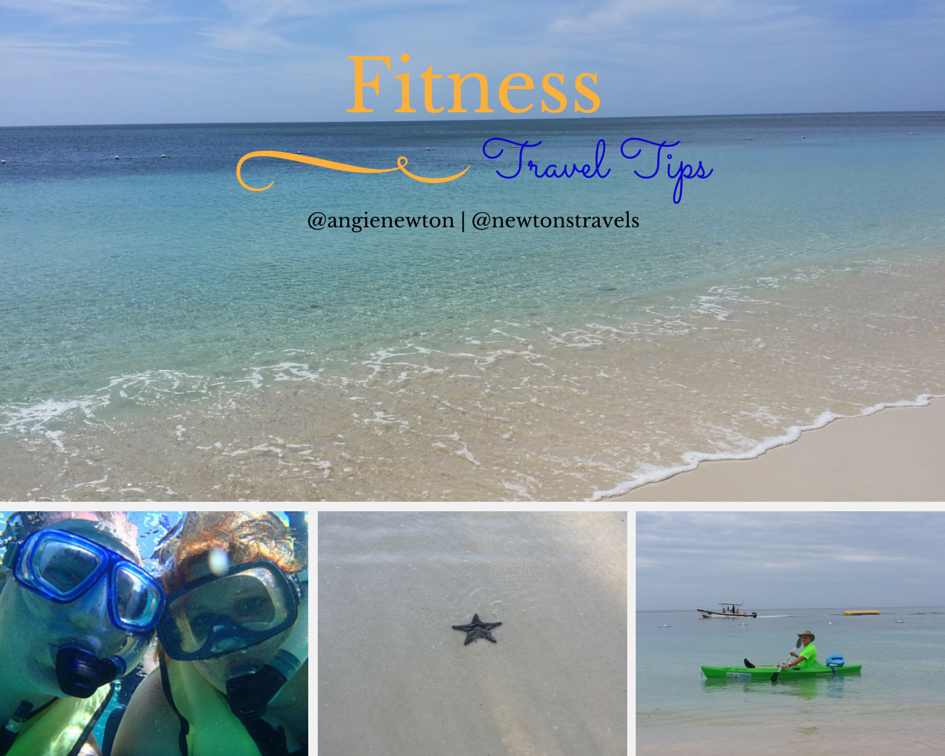 Travel Tips: Fitness & Eating Healthy
Do dreams of a relaxing vacation, froo froo drink in hand while taking in the suns rays dance around in your head? Maybe you think throwing in the towel and just living it up on your next trip would be alright?
Thankfully you don't have to throw in the towel and CAN enjoy this type of vacation while still sticking to a healthy lifestyle.
I have included some of the best travel tips, fitness & eating healthy related below.
Here are some top ways to stay active while on vacation:
Walking
Hiking
Snorkeling/Diving
Swimming
Biking
Taking a fitness class
Kayaking
Skiing
Surfing
Tennis
Golf
Some of my favorite ways to stay active on vacation are walking the beach, snorkeling (I could stay in the water all day & sometimes we do), swimming and I'm hoping to take up kayaking too. I do like to relax and read a good book on the beach too but most times we are on the go and staying active. I went on the hunt for some fitness travel tips for you and found some that I hope you'll enjoy.
We always do our best to stay healthy while traveling. Here are some great tips from around the web on how to stay fit while traveling, healthy travel vacation advice and more.
Tips for Fitting in Fitness When Traveling 
7 Simple Tips to Staying Fit While Traveling
Don't Take a Vacation from Healthy Habits
10 Tips for a Healthy Road Trip 
And here are some tips for eating healthy while traveling:
Tips for Eating Healthy While on the Road
Eat Healthy While You're Traveling
5 Ways to Avoid Feeling Deprived When You Eat on Vacation
And an older post from our friends at Eat Smart on eating healthy while traveling.
Whenever we are planning to go on a road trip or even travel by plane to another country, we pack a cooler full of healthy food options. If we decide to stay in a rental property that makes life much easier.
When we go to Roatan, Honduras we stop off at the grocery store to stock up and get what we need for a week. Not only do we get the option to stick to healthy eating but we also save time & money by having something available for breakfast and lunch. It's a win, win!
What are your top tips for healthy travel?