Disclosure: This post may contain referral/affiliate links.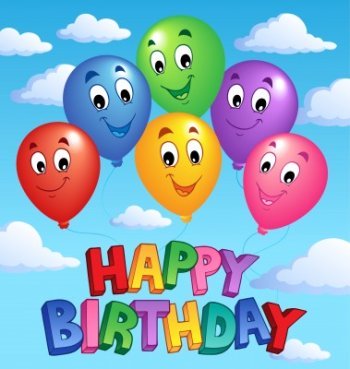 My Blogiversary: Happy 9th blog birthday!
I promised you last month I would be back to catch up. No better time than on my 9th blog birthday (February 22, 2008). As I think about it, it's kind of sad that I am still in the same spot err shape as I was back then. I lose, gain, lose, gain, you know same old thing. It stinks.
I first started out with a love for fitness. I would still love it if my body would let me. Some days I think I'll never get back to that place I loved so much but I do want to. And I WILL.
Food is my problem, an addiction really. I love food and too bad I'm addicted to crap and not delicious healthy foods. I guess learning how to cook healthy would be the first step. I just wish someone would come up with beautiful healthy and affordable meals for us so we didn't have to bother.
Hubby did buy me a Vitamix recently so I have been trying to get back to my morning smoothies. And I want to make soups too. Any good recommendations?
I have tried tracking before using apps and writing meals down but that frustrated me so much, I gave it up. Wouldn't mind trying to get back on that path. Thought this daily planner https://amzn.to/2kW7DXI (my referral link) looked cool and maybe something easy I could start with. What do you think?
Speaking of food….
I am back to eating meat again after almost 7 years. I went vegetarian (pescatarian) on my birthday, April 1, 2010. WOW. Can't believe it was that long ago.
Over the last few months, I have thought a lot about going back to eating meat. Not sure exactly why that came about or what came over me but I bit the bullet and just out of the blue started eating meat again a few weeks ago. And I am enjoying it.
I find it much easier to eat meat/fish and veggies now and cut down on the carbs. I am not on a low carb diet but I am starting to change some habits.
My dad had a stroke on Thanksgiving while we were visiting and he has changed up his eating habits since then and has lost quite a bit of weight. GO DAD! (he reads the blog!).
2016 was quite the year for me heath wise. I found out I was diagnosed with perimenopause (here's a great post on how to ease symptoms of perimenopause). I had all kinds of scans, physical therapy and ultrasounds for various issues. And I had my 1st mammogram with call back for biopsy. They found nothing, thank goodness but that was no fun. I'm due to go for another mamo. My body has not been playing nice and I just haven't felt good.
But I do want to change that….
Making my intention known that one day I will have one of these endless pools or a hot tub at least to help.
The hot tub was in the plans to put in the back part of our home gym (the remodeled garage) but I lost some client hours AND my healthcare insurance went WAY up. Unreal that they can do that but anyway, that is not a subject I want to go into. OK got sidetracked.
I want to get back into fitness because it has always been such a great mood booster for me. Especially spinning, rebounding and boxing. I did buy two new pairs of fitness shoes last week (a pair for walking and a pair for cross training). Breaking them in this week around the house and running errands. I have to really stick around home to workout because my right leg still gets numb after walking/standing about 15-20 minutes. It's annoying. Hopefully losing weight will help with that situation.
On a personal note, we have had to deal with some pet issues too which made life real stressful over the last year but things have calmed down. Our box turtle crossed the rainbow bridge this past weekend which was sad after having her in our lives for over 19 years. Rest in Paradise Taz.
My 45th birthday is coming up on April 1st. No better time than the present to try to get a grip and start living a much healthier lifestyle. I want to feel more confident when I walk down the beach to go snorkeling (although hubby loves me as I am, awww he's great) and I look forward to the day again where I don't have to ask the flight attendant for a belt extender. I want to have the strength to say no to foods that will not make me feel good and maybe one day we'll walk another half marathon. Maybe not in Jamaica next time, that was painful but we'll see. I also want to be able to do a little hiking so that we can see the beautiful waterfalls at Starved Rock here in IL. Check out the beauty.
I will climb to see those falls one day!
Although there have been ups and downs over the last 9 years, this blog has been a lot of fun and I have learned a lot and worked with a lot of great people, brands/companies and I want to thank YOU my faithful readers and friends. This blog would be nothing without you. Looking forward to many more years to come.
If you have gotten this far, thanks for listening. It's time to be accountable again. If we're not connected, be sure to follow me on Facebook at https://www.facebook.com/losingitandlovingit/ and join my monthly fitness challenge group at https://www.facebook.com/groups/losingitandlovingit/. It's not active yet but I want to work on that so we are not so alone in our quest for weight loss and good health. I'm on Twitter too.
Answer me this.
What is your favorite meaty recipe?
What is your favorite workout lately?