Disclosure: This post may contain referral/affiliate links.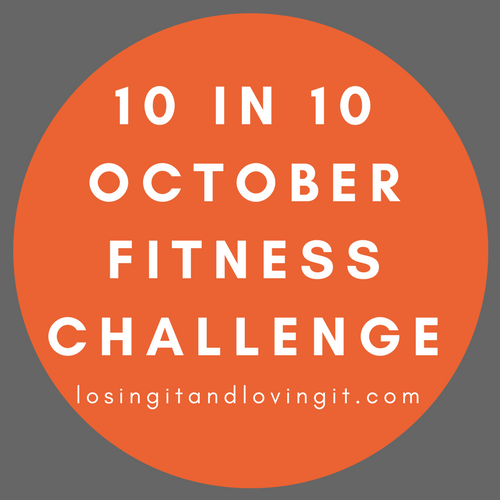 We are gearing up for the October fitness challenge!
Are you ready?
We are changing up the monthly fitness challenge a bit for October. It's going to be the same name your own challenge again but this time, the goal is to do some type of workout 10 minutes a day for 10 days in a row. It all starts Sunday, October 22nd and goes through Tuesday, October 31st. You pick the particular area you want to work on and just stay accountable.
This challenge goal might be a lot more attainable for those just starting out OR even for those of us (namely me lol) who need to get back in shape and into a routine. I think 10 days, ending on Halloween will catapult us right in to the November challenge. And hopefully help keep us away from the candy jar at the same time!
Speaking of candy, I think we are going to be party poopers this year and skip Halloween. That means no candy in the house, lights off and go out to dinner! Sounds good to me. We never really have that many kids come by anymore anyway so I think that's the plan.
I'm not quite sure what 10 minute daily challenge I'll do myself but I think it's going to be boxing. I haven't put on the boxing gloves in some time and whether I shadow box or talk one of our older granddaughter's into boxing with me (gloves and mitts), I think that is what I need. If you're interested in boxing, this beginner's guide I found should help. I'll be sure to check out my Polar heart rate monitor to see how far I pushed myself. Do you use a heart rate monitor?
The video below is somewhat similar to the moves I'll be doing when boxing alone.
I will probably also use Slam Man when boxing (you can see 'him' in this video of our home gym). Hopefully getting back into something I used to absolutely love will inspire me to keep going. What is your favorite way to get fit?
10 Minute Workout Ideas for the Challenge
Here are some 10 minute workout ideas I found on Pinterest. They look fun! Challenge yourself anyway you like, these are just suggestions. That is the beauty of the name your own challenge. Enjoy!
Work Break Workout
Ten Minute Booty Lift
I'm going to keep track of my 10 in 10 in one of my day planner type calendars to help me stay accountable to myself plus we will have daily check in's for the 10 days on the Facebook page AND in the monthly fitness challenge Facebook group. Have you followed and joined? If not, what are you waiting for?
And in the meantime, feel free to check in every day with a post on the monthly fitness challenge group and/or the Facebook page. You can find the info to join the challenge here: https://monthlyfitnesschallenge.com/
Are you going to join us for the 10 in 10 challenge in the 10th month of the year? *wink*