Disclosure: This post may contain referral/affiliate links.
A 1/2 marathon, am I crazy?  Yep, I think so!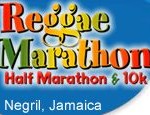 So as some of you have heard on Twitter and Facebook, I might be signing up for the December Reggae Marathon in Negril, Jamaica!  Hubs and I would do the 1/2 marathon (run/walk).  I have never run in my life but I do some jogging with the Walk Away the Pounds dvd's I do at home and have done 3-5 miles with those that are mostly walking.  The head fitness coordinator at our gym who we have known for quite some time is going to bring me a training schedule and get me started on the treadmill. Yikes!  I'm so nervous even talking about it.  It will definitely be a major challenge and I'm going to see if I can't find and sign up for a local 5k and/or 10k before heading to do the 1/2 marathon.  If anyone is in the Chicago burbs and know of any races coming up or want to join me in one, please let me know!
I have been doing some research the last few days and have found and been given a few website links to visit and I have been making a list of possible accessories I will need.  I think I am going to go ahead and buy the Garmin Forerunner watch but need to read a bit more about it.  Do you have a Garmin?  I will also need a pair of running shoes (most likely New Balance, my go to brand!), knee braces, etc.  Oh and of course I would love to have a treadmill at home too!  Do you run and if so what are your most needed accessories?
I am shocked that the trainer and hubby think I can do this because I just don't feel it yet.  I am over 230 lbs and wonder if my weight and bad knees will affect how I train. I am going to try my best but I keep saying I really think I should only do the 10k.  We shall see!  Let's see if we can even book a room at our favorite resort first and then decide.
Next…..
Do you have the Taste of Home Comfort Food Diet Cookbook
?  I received a review copy and I love it.  There are so many yummy looking recipes (over 400!). The photos in the book are wonderful and not only is is comprised of a ton of recipes, there is a 6 week meal plan, a section on workouts, eating out and more.  When you get the book you get access to exclusive web material and an online dietician. The premise of this cookbook is that it's America's favorite comfort recipes with only a fraction of the fat and calories.  I already have many pages of recipes marked like the grilled bean burgers (p. 140), garden frittata (p.93) and even chippy blond brownies (p.277).  YUM!  Do you have this cookbook?  If so, what are some of your favorite recipes?
And now to some more fun stuff…..
I'm finally able to get to the Pirate's Booty snacks review and giveaway that I had planned.  I got the snacks before we left for Jamaica and didn't have a chance to try any out so over the last week I have been able to enjoy these goodies.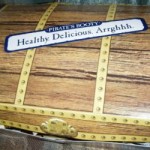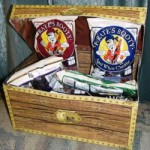 (I apologize in advance for the blurry pics. I'm definitely not a photog ha ha)
So far I have had the pleasure of trying:
Smart Puffs – Real Wisconsin Cheddar
Pirate's Booty (Puffed rice and Corn) – Barbeque
Pirate's Booty (Puffed rice and Corn) – Veggie
Pirate Brands, maker of all natural snacks including Pirate's Booty sounds like an amazing company.  Here are some tips from their registered dietician on how to set realistic weight loss resolutions.
A Weight Loss Resolution You Can Keep
Pirate Brands' Dietetic Expert Provides Tips for 2010
Sea Cliff, NY (December 4, 2009) – After the champagne bottles are recycled, the noisemakers thrown away and the confetti swept up off the floor, it's time to start the obligatory weight loss resolution routine.  Your visitors have good intentions at the start of each year, but in a few short weeks their promises fall to the wayside.  This happens because people set impractical pledges that are fated to fail.
Lucky for us, Pirate Brands' (makers of all-natural snacks including the iconic Pirate's Booty), resident registered dietician, Emily Anschlowar, MS, RD is here to offer tips on how to set realistic goals for 2010.:
·         Be Specific.  Don't just say, "I want to lose weight."  Instead, vow to lose two pounds per week for one year by exercising three to four times weekly and eating sweets in moderation.
·         Get Serious.  If you're not serious about losing weight and getting healthy, it is most likely you won't achieve your goals, which can lead to feelings of shame and guilt.
·         Take Stock.  Look through your fridge and pantry and throw out or donate unopened packages of foods that are high in saturated fat, trans fat and calories or highly processed.
·         Create a plan.  Plan out your meals in advance and create a weekly shopping list to keep you on track in the grocery store.  Also, develop a work out calendar, so you can pump yourself up the days you need to hit the elliptical machine.
* Change Your Habits.  Select foods that are naturally high in fiber and whole grains.  Make sure to hit all the food groups and practice portion control.
* Water it Down.  Water is great for weight-loss because it often replaces high-calorie drinks like soft drinks and juices packed with sugar.  Sticking to the "8 by 8″ (eight 8-ounce glasses of water by 8:00 p.m. daily) is a tried and true method to stay hydrated.
·         Don't Deprive.  Your weight loss regimen should not feel like a punishment.  Instead of depriving yourself, allow yourself to splurge on foods you love in moderation.  For example, eat half of a chocolate bar once per week.
·         Keep Snacking.  Noshing on whole grain snacks that are low in sugar will keep your energy up for that big meeting in between breakfast and lunch.  Snacking will also keep you from overindulging at mealtimes.
Pirate Brands snacks are deliciously baked, low in fat, gluten and trans-fat free as well as made from all-natural, wholesome ingredients.
Pirate's Booty is made from puffed rice and corn, only 130 calories per servings and comes in great flavors like Aged White Cheddar, Barbeque, Veggie, Sea Salt & Vinegar and New York Pizza.
Other great-tasting snacks include Smart Puffs, all-natural baked corn puffs made with real Wisconsin cheddar and Original Tings, all-natural vegan crunchy corn sticks.
We hope you'll be inspired to live a little healthier and have fun while doing it!  Let's weigh anchor and hoist the mizzen!
Pirate Brands
Pirate Brands, a leader and manufacturer of all-natural snacks, is located in Sea Cliff, NY and has been creating healthier treasures since 1987.  The company was founded on the belief that you shouldn't have to "snackrifice" taste and fun for health.  Pirate Brands produces deliciously baked, all-natural snacks including Pirate's Booty, Smart Puffs and Original Tings.  Pirate Brands' snacks are free from fryers, trans fats and ingredients you can't pronounce, Arrrrrr.  Products are sold in the US.  For more information visit: www.piratebrands.com
Pirate Brands sent me this awesome box of goodies to sample and review on the blog PLUS they were generous enough to offer you all a chance to win one of the cool Pirate's Booty boxes too.  AWESOME!
All you need to do is visit the Pirate Brands website and tell me what product sounds most appealing to you.  I personally love the Smart Puffs – Real Wisconsin Cheddar so far but I have quite a few bags left to sample and have a feeling there is one in there that I will REALLY enjoy.
If you would like a 2nd entry, feel free to tweet about this cool giveaway on Twitter.  Please be sure to leave a separate comment with a link to your tweet.


P.S. I did not exercise today! I was a very bad girl. Spin kicked my bootay last night LOL  I know, no excuses.