Disclosure: This post may contain referral/affiliate links.
It's all about green today,
Raise your green smoothie.  Cheers!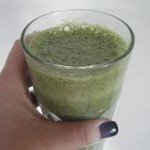 I had a green smoothie (green monster smoothie) this morning and it was so much better than any of the ones I have made in the past and it was a pretty green color too not like my first one (you can read about my 1st green smoothie).  Looked nice next to my freshly painted green nails ha ha
In today's smoothie went 1/2 cup of original almond milk, 1/2 cup of vanilla almond milk (I planned to use 1 cup of original but I ran out), 1/2 banana, 1 scoop vanilla whey protein powder, 2 cups of spinach and about 5 ice cubes (my smoothies have to be EXTRA cold). It was so tasty, I can't wait to have another.
Everyone makes their green smoothies differently so here are a few that you might be interested in reading about.
Angela's green smoothies
And today I just came across The Green Smoothie Queen site and blog. I'm excited to go read more.
Also, my friend Lain has used the book Green Smoothie Revolution
and wrote about her experience with green smoothies over on her blog 30 Minute Martha.  Cute name for a blog huh?
So there you have it for green smoothie recipes and tips.  Enjoy!
Been so busy today that lunch came late so I whipped up an egg with spinach and had an egg sandwich with hot sauce and Laughing Cow cheese. It was definitely a winner!
Hubby and I have no special plans for dinner but we do have a date at the gym for spin class!
Do you have any plans for St. Patrick's Day? Have you had a green smoothie today?


P.S. Just in case you are looking, Eating Well has some healthy St. Patrick's Day recipes.