Disclosure: This post may contain referral/affiliate links.
I had my very first green smoothie for breakfast this morning.  I have seen so many varieties of this green monster smoothie, I wanted to try it out for myself.  To be honest my first impressions before even whipping up the green smoothie up was to gag ha ha.  But I was really quite surprised that it turned out quite yummy.  It didn't turn out a pretty green like the many I have seen on food blogs around the web but it had it's own unique mix of colors.  It looked like it would go nice with the Christmas holidays.  Hints of green and red to it.
Want to see?
Here are the ingredients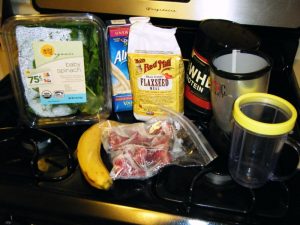 1 banana, 5 frozen strawberries, 1 scoop vanilla whey protein powder, 1 cup baby spinach, approx. 1 cup almond milk and 2 tsp. flax
I just guessed on the ingredient amounts and it turned out well to me.  I used my Magic Bullet
so the cups are small (but as you see below it filled a full glass and there was a tiny bit extra) and most green smoothies I saw I'm pretty sure were made in an actual smoothie maker or full size blender.  If you have any tips on the amounts or ingredients feel free to share!
Here's the final product (can you see the colored specs?), yum.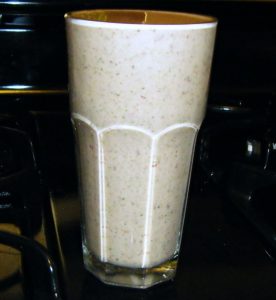 I have a list of other green smoothie ingredients I would like to try so you'll be seeing more of my concoctions on the blog.  It should be fun!
If you have made green monster green smoothies, please feel free to link to your blog or share with us here.
Read about my 2nd green monster smoothie here.