Disclosure: This post may contain referral/affiliate links.
Oh yes I did, I survived my 2nd green smoothie!  YEA! It's a lot of fun trying different varieties and I have a list of others I'll be putting to the test over the next few weeks.
I made this green smoothie in the old Back to Basics Smoothie Pro blender
.  This smoothie was very tasty but the kale didn't grind up as well in the actual smoothie maker as the spinach did in the Magic Bullet

(love, love, love the Magic Bullet).  Plus it took longer to prepare in the smoothie maker BUT since the smoothie maker is larger than the Magic Bullet, it was much easier to throw the ingredients together and much less messy.
Green smoothie #2 ingredients: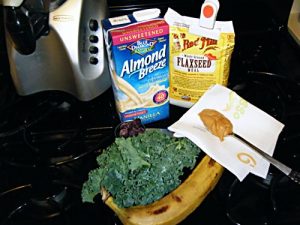 1 kale leaf, 1 c. unsweetened almond milk, 1 tbsp flax, 1 ripe banana, 1/4 c. frozen blueberries, 1 tbsp peanut butter (almond butter is recommended), 4-6 ice cubes and 1 scoop vanilla whey protein powder (not pictured).
I decided at the last minute to add the ice and protein powder.
Sorry for the messy glass, I dumped it back in the smoothie maker when I decided to add ice and protein powder ha ha.  OK, the picture did not turn out too well either bummer.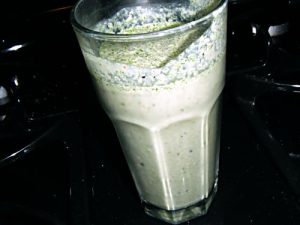 It's been fun trying out these two green smoothies.  I'll share more as soon as I make them and will probably put the recipes together on my main website so you can find them all in one place.  These smoothies seem to hold me over fine until lunch time which is great.
I would love to own one of those Vitamix blenders
that I hear so many great things about.  Imagine what you could make with one of those!  Have you seen the Vita Mix blender?  Own one?
Happy Thursday!  Make it a great day.
PS.  Read about my very first green smoothie experience.