Disclosure: This post may contain referral/affiliate links.
It's time for Menu Plan Monday.  I just put together the potential meal plan for the week.  As usual, we play it by ear as to what we feel like having but most times follow the plan.  Last week we did not stay on plan as we were so busy with buying two 'new' trucks.  It was back and forth to the dealership so we moved meals all around and ate out quite a bit.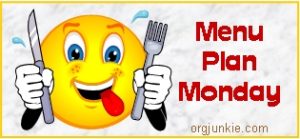 Monday-
Mahi Mahi/Salmon w/potato and roasted brussel sprouts
Tuesday-
Turkey Burgers, sweet potato fries and veggie
Wednesday-
Jamaican Jerk pork chops w/asparagus
Thursday-
Spaghetti w/hubby's homemade sauce (turkey sausage, veggies, etc) and biscuits
Friday-
Chicken w/red beans and rice
What is on your menu plan this week?