Disclosure: This post may contain referral/affiliate links.
Menu Plan Monday time!  Pretty easy week here since Monday and Tuesday's meals are already cooked and ready to go. We had stir fry last night with my stepson and his girlfriend and have plenty left over so we'll have that tonight and then hubs also precooked a pot roast for Tuesday.  We might precook meals more often!
Here's the menu plan for the week: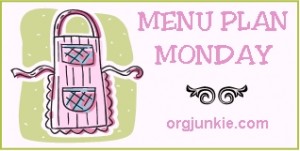 Monday-
Stir Fry and brown rice (leftovers)
Tuesday-
Pot Roast (pre-cooked), veggies, Kashi rice
Wednesday-
Tuna and Soup
Thursday-
Spaghetti w/spicy turkey sausage in homemade sauce and biscuits
Friday-
I'm out to dinner for a friend's birthday and Kev is on his own *wink*
What is on your menu for this week?