Disclosure: This post may contain referral/affiliate links.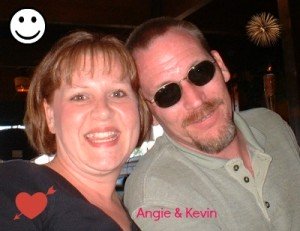 Courtyard Marriott Hotels is where it all began. For Kevin and I that is.  It was 1996 and I was working as a front desk supervisor at the Courtyard Marriott hotel in Chantilly, Virginia.
Kev was on a business trip and was staying at the hotel.  He likes to say I checked him in and he checked me out.
At the hotel we always had nice warm chocolate chip cookies sitting on the front desk, made fresh for the evening guest check in's.  He called down a few nights into his stay to see if we had any and I made sure to set aside some for him and his travel partner.
We totally flirted and he would join me on my dinner breaks. I worked the 7-11 shifts so it was nice to be able to have dinner with him.
We dated long distance (he was from Illinois) for about 3 months.  We talked on the phone for many hours every night when he flew back home to IL.  A few times he even flew me in to IL and Kentucky for a family reunion and to meet his kids.
We had already planned for me to move to IL and since we knew we were going to be together for the rest of our lives we decided to get married before we left.
My grandmother had just passed away on Christmas Day 1996 (boy do I miss her) so all my family was together.  We actually decided last minute to get married before leaving and planned the whole thing (church, mini reception, cake, his ring, marriage license, etc.) in less than 24 hours.  We got married New Year's Eve, 1996.
It was kind of crazy but so worth it.  Yep we dated 3 months long distance before we got married and I moved to IL.
So anytime we have a chance to stay at Marriott we jump at the chance.  As you can imagine the hotel brand (especially Courtyard) means a lot to us and will always have a special place in my heart.
We actually won the amazing beach blogger contest from Marriott when I entered this story on how we came to be. You can read all about that awesome vacation to St. Thomas, VI and Marriott's Frenchman's Reef resort here. That was a great experience, we had so much fun.
I look forward to many more years together traveling and enjoying each other's company.
" It doesn't matter where you go in life…it's who you have beside you along the way"