Disclosure: This post may contain referral/affiliate links.
Tampa, FL Vacation
We have been back a few weeks now but I wanted to fill you in on our quick 5 day Tampa, FL vacation. Kev hasn't had a vacation in over 2 years. If you recall we went on our first cruise in 2018 and haven't been on real vacation since. We had to cancel our Arizona trip right at the beginning of the Pandemic, thanks to COVID.
We felt comfortable heading to Tampa. It was actually a 'workation' because we both had to work but it was totally worth it. And we don't mind working while on vacation anyway. Plus the plan was to limit our outings where ever we decided to go.
I did a lot of research before we decided on a destination. I knew we wanted somewhere warm, near the water and in a hotel room with a balcony. We didn't want to rent a car if we didn't have to and didn't want to spend too much money.
Where to Stay: Tampa, Florida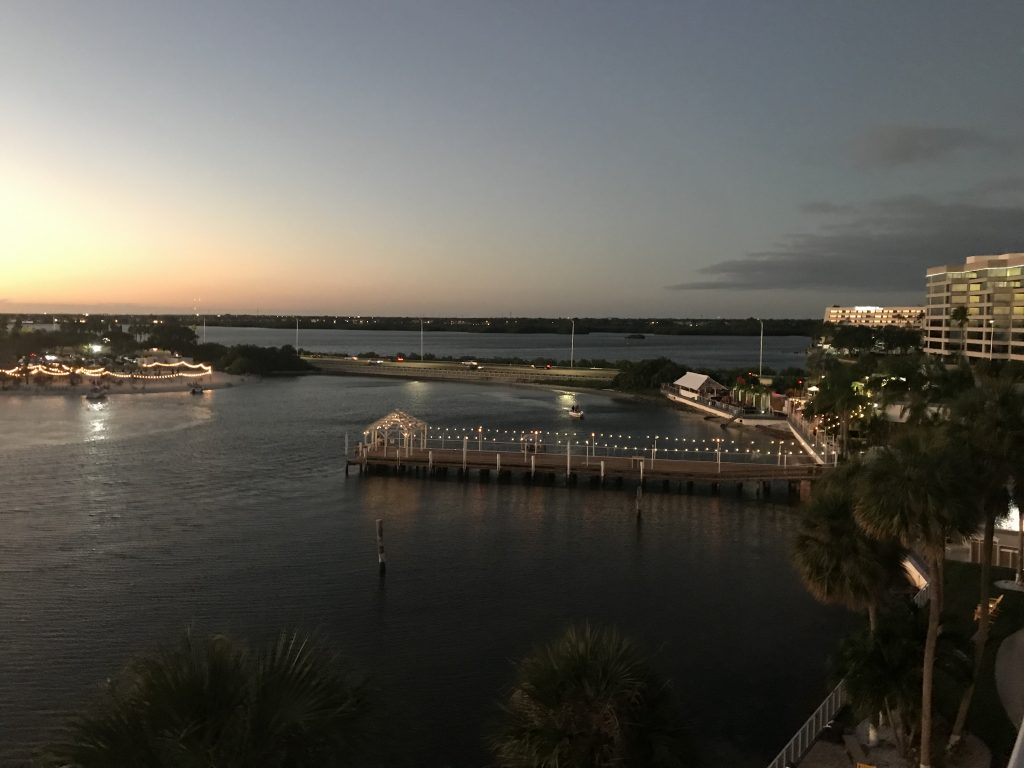 Thankfully we had some points to use for our hotel stay. I was going back and forth on where to stay because the place we really wanted to stay had reviews that concerned me a bit. Kev said his gut was telling us to go ahead and book there anyway so we went for it. I am super happy I didn't listen to all the naysayers.
After arriving at Tampa International airport and assessing my knees which were pretty banged up (I tripped and fell on the jet bridge as we were heading down to board our plane to Tampa but other than a few cuts/bruises on the knees I was OK.), we grabbed our bags and ordered a Lyft driver to take us to over to the Godfrey Hotel and Cabanas.
The Godfrey Hotel & Cabanas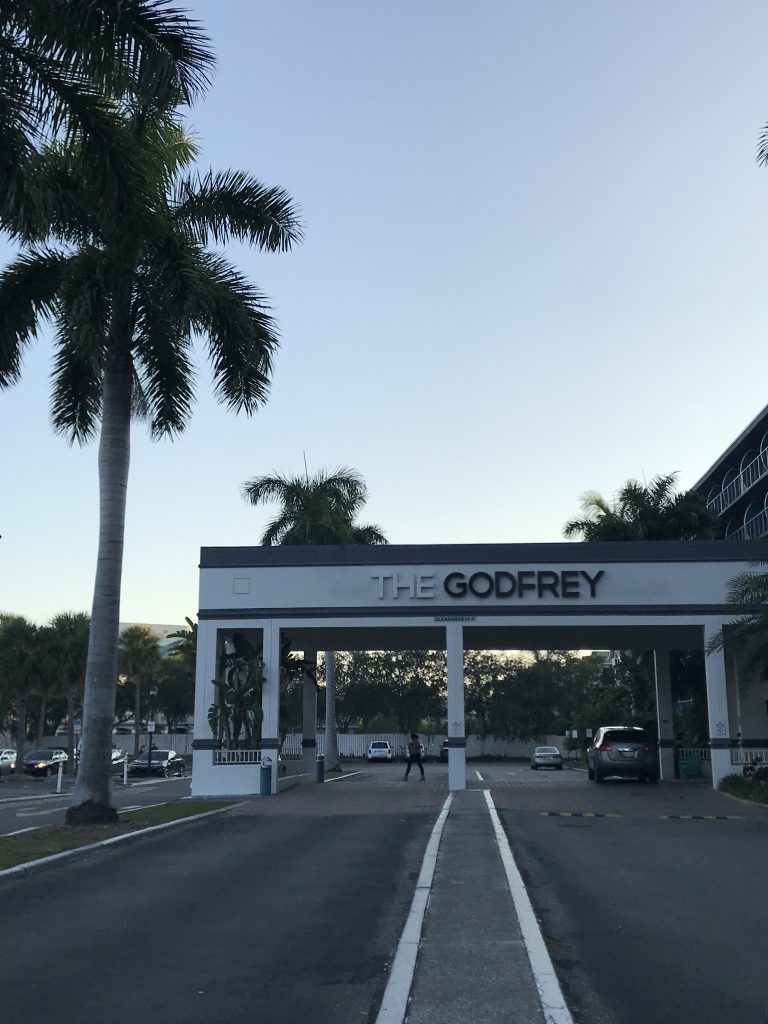 From the moment we walked through the doors of the Godfrey Hotel Tampa, we enjoyed ourselves. What a great hotel. It was perfect for our relaxing 'staycation'.
We booked a King room with bay view balcony. It was truly amazing! The view. The weather. We totally picked the perfect place for us.
Take a first look at the view with us…
View from Our Hotel Room
This hotel totally reminds me of a cruise ship. When you're on the balcony over the water it feels like you are on the water. It's so cool. For anyone who has cruised on Carnival, these balcony dividers might remind you of a cruise ship balcony.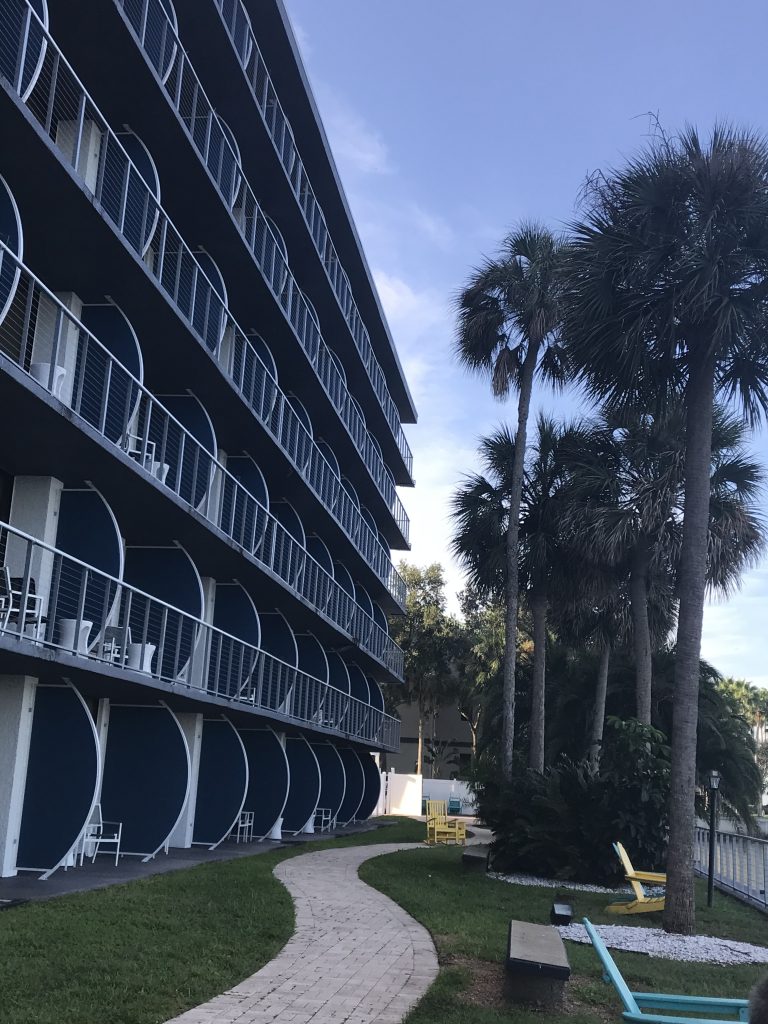 Let's back up a bit and show you the lobby area too. It was clean and welcoming.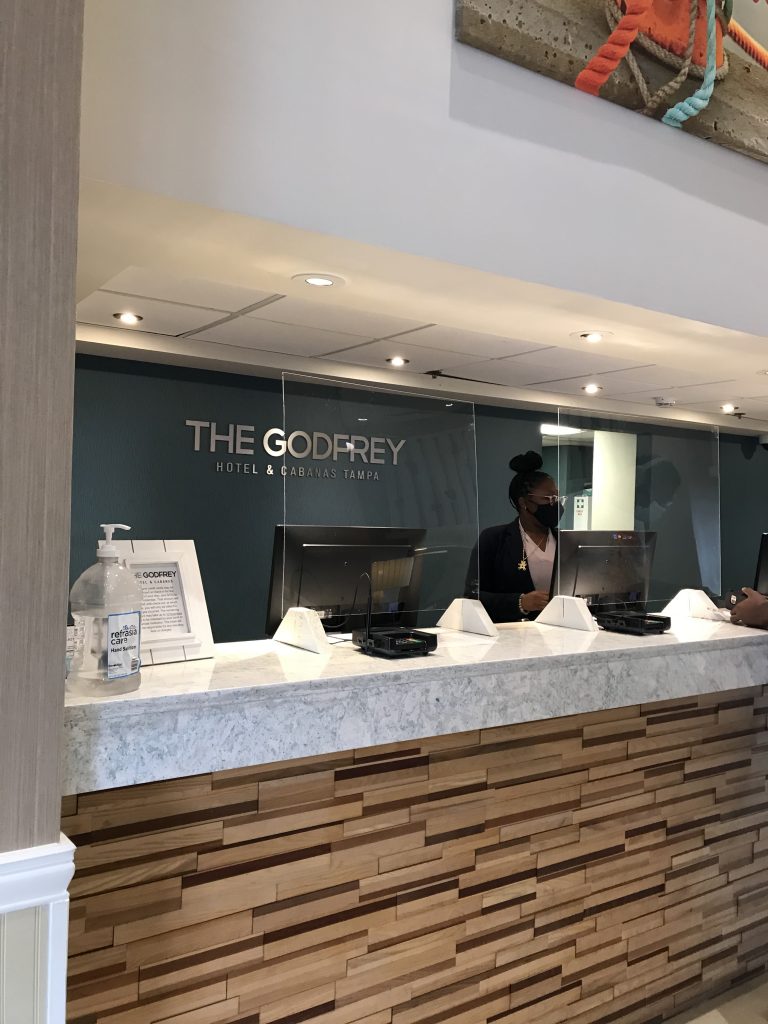 There was a place you could buy snacks, drinks and use an ATM if you need to. It was located right next to the front desk with a special window on the side to pay for your goodies.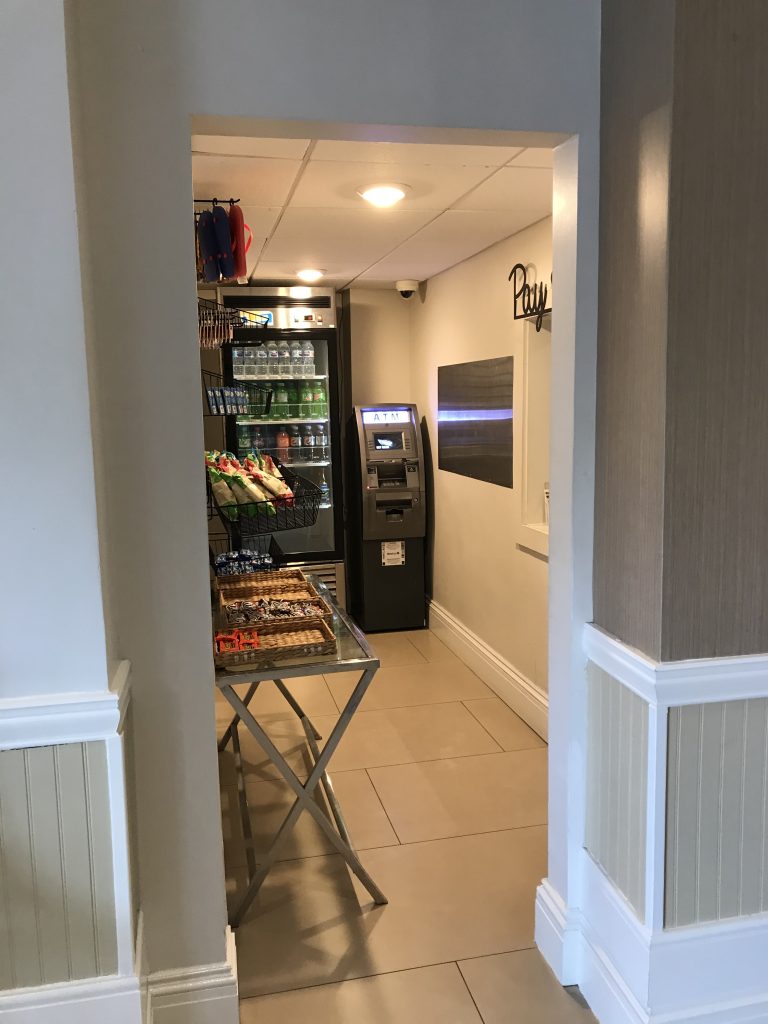 And they had plenty of luggage carts although if you can believe it we didn't need one this trip. I wasn't quite able to pack a carry on but I left a carry on at home and just packed a personal item and paid for a suitcase. Next time, I'm just going with a suitcase, carry on and personal item. No need to stress any more lol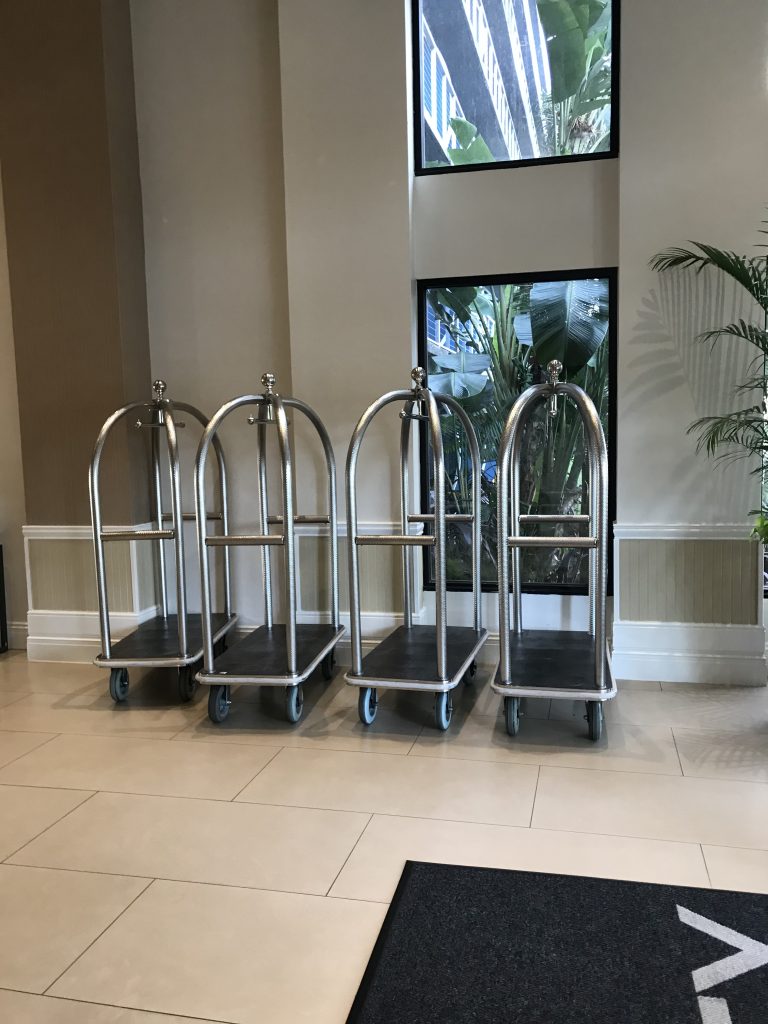 They had signs for social distancing and required masks, etc. The hotel was following guidelines but I can't say a lot of the guests were. To me that's just rude, it's really not that hard to read the signs and wear a darn mask if it's required in an establishment.
The elevator specifically said 3 max guests with masks. Not that they followed the rule but the hotel could no way watch all the guests. They did their best.
Godfrey Hotel Tampa Waterfront King Room
The waterfront king room at the Godfrey Hotel Tampa was very nice. And the bathroom was quite spacious. I love that!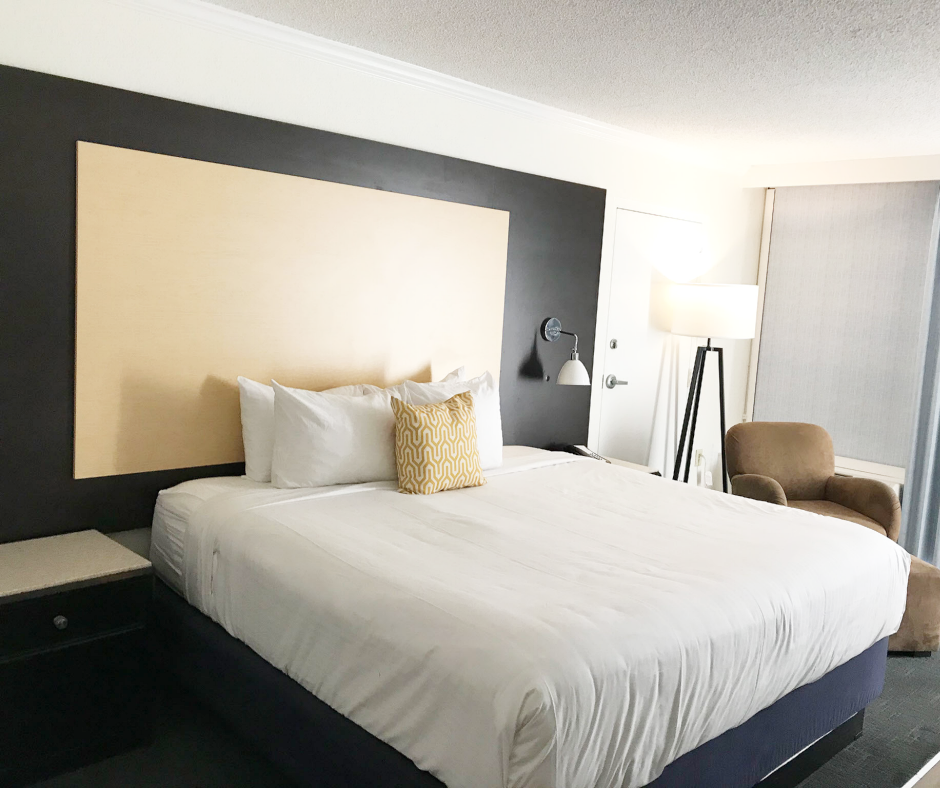 We both had enough room to work comfortably. They had the chair and ottoman you see above and a desk with comfy chair.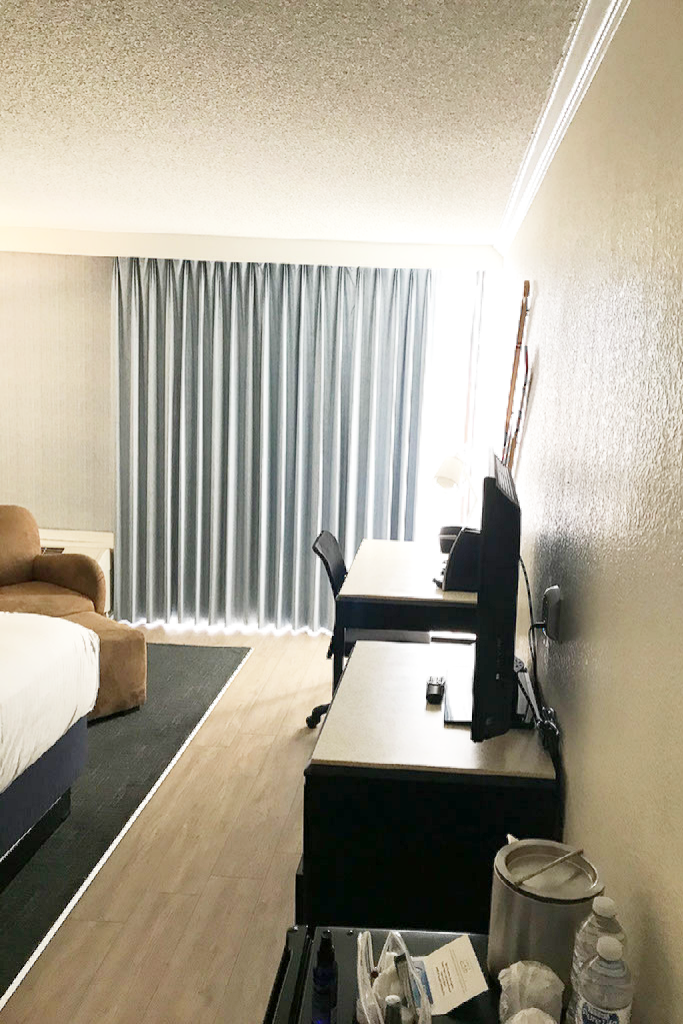 Where to Eat: Tampa, FL
The Godfrey Hotel & Cabanas also has a little Bistro in the hotel, only open certain times during the week. We were able to grab coffee and Kev had a sandwich.
The day after we arrived we ordered groceries from Publix via Instatcart. The hotel is walking distance to Whiskey Joe's restaurant though so we ate there a couple of times.
Whiskey Joe's Restaurant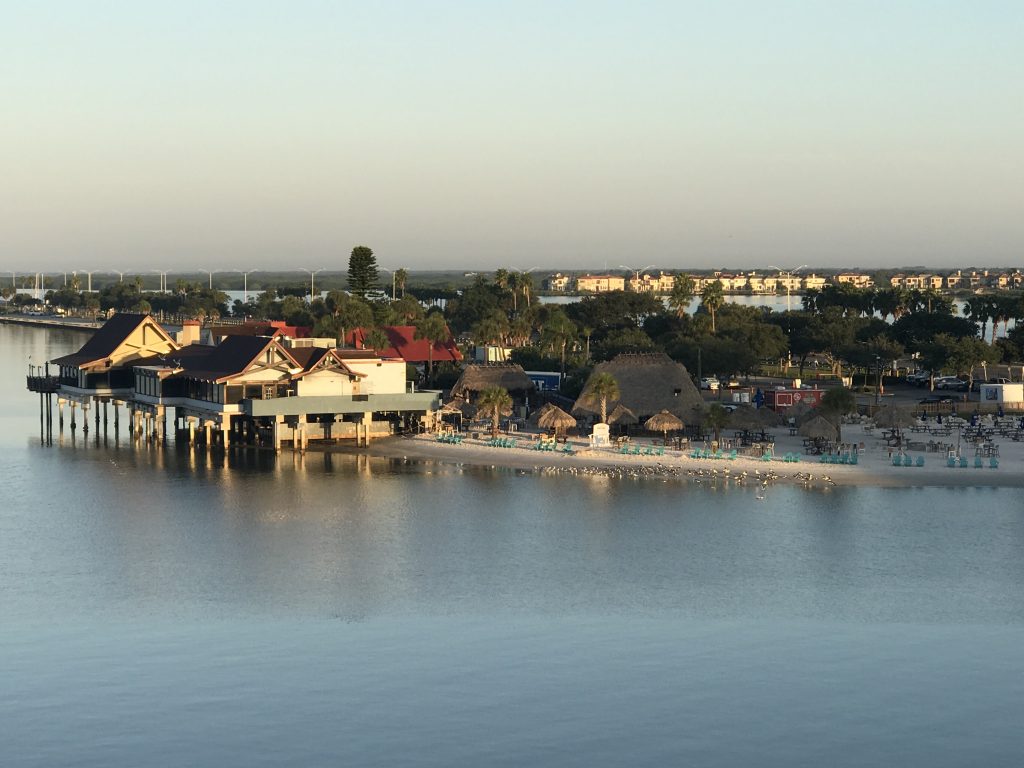 One evening we picked up appetizers and Key Lime pie to take back to the hotel. We bought a Whiskey Joe's cup and a shirt too. While waiting, there was the most amazing sunset. Truly took my breath away.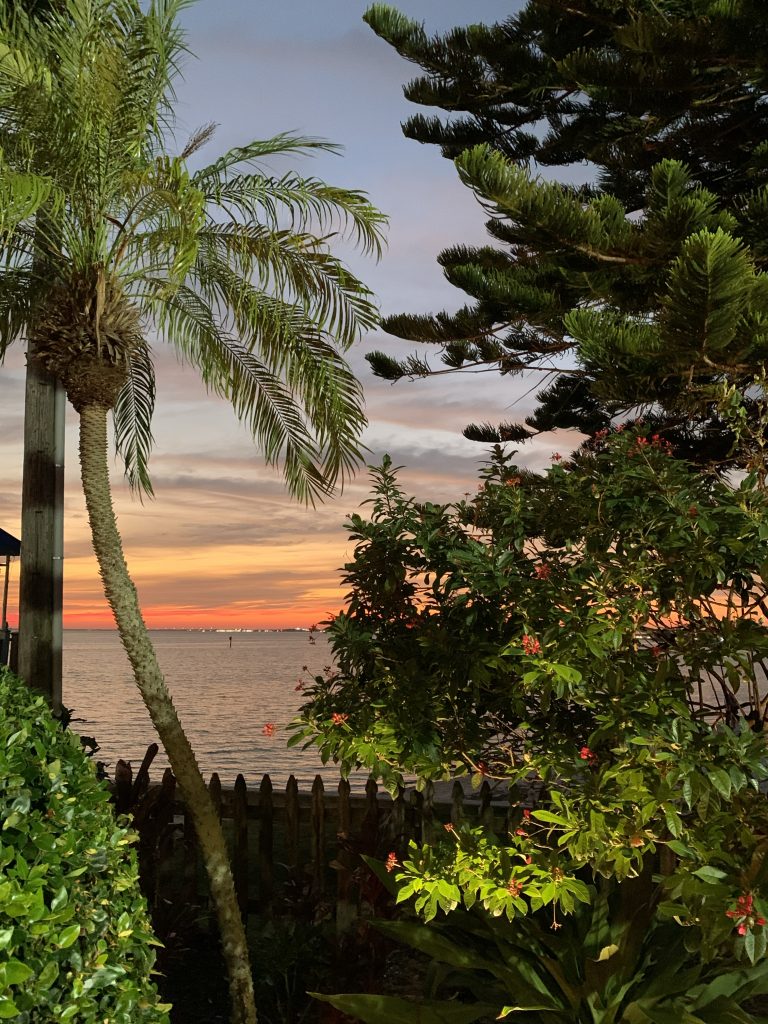 We ordered lunch delivery to our hotel room one day. There were a couple restaurants that leave menus under the hotel room doors and we chose one of the Italian ones (Tiani's Pizza). We ordered a large Sicilian pizza and it took them about 2 hours to deliver. But it was worth the wait. I kind of splurged that day.
Bahama Breeze
That same night we took a 15 minute walk to Bahama Breeze for dinner. My cousin drove about 45 minutes to meet us and we had a blast. Thankfully she drove us back to the hotel since it was dark out by then. Dinner was fantastic, the server was great and the food and drinks delish.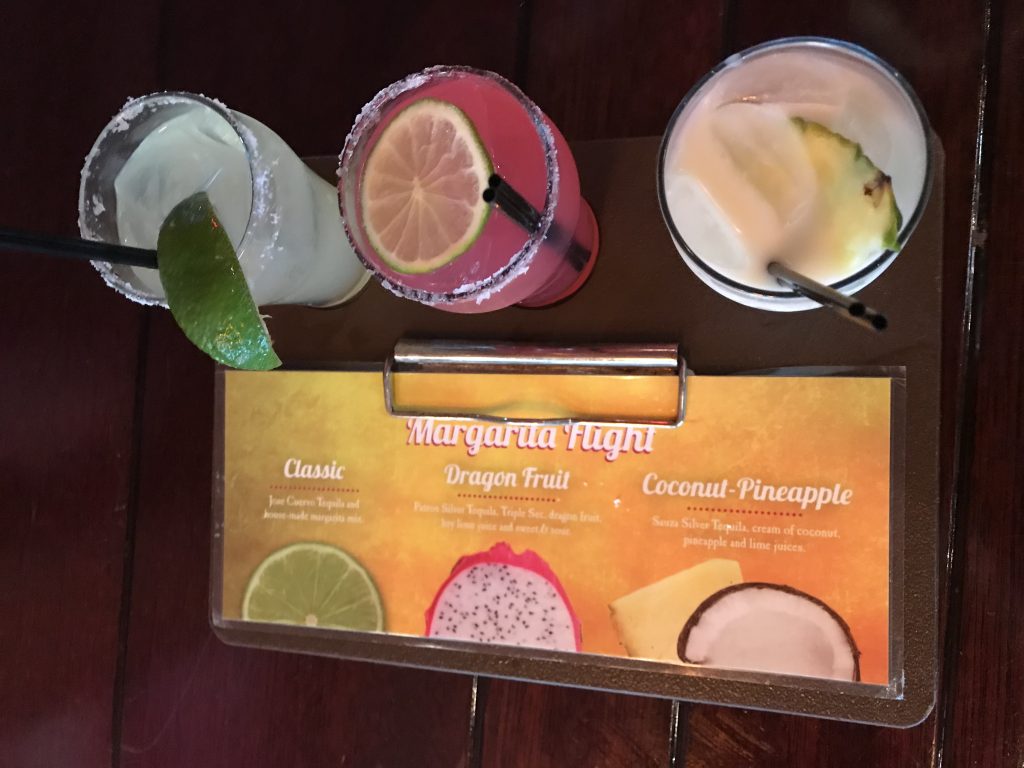 Have you had the margarita flight from Bahama Breeze? If not, you should.
WTR Pool & Grill
One day for lunch, we went to WTR Pool & Grill waterfront restaurant. This is also at the Godfrey Hotel Tampa where we stayed. Their outdoor dining space was nice and the food good but their blender broke and they couldn't make a drink. Bummer.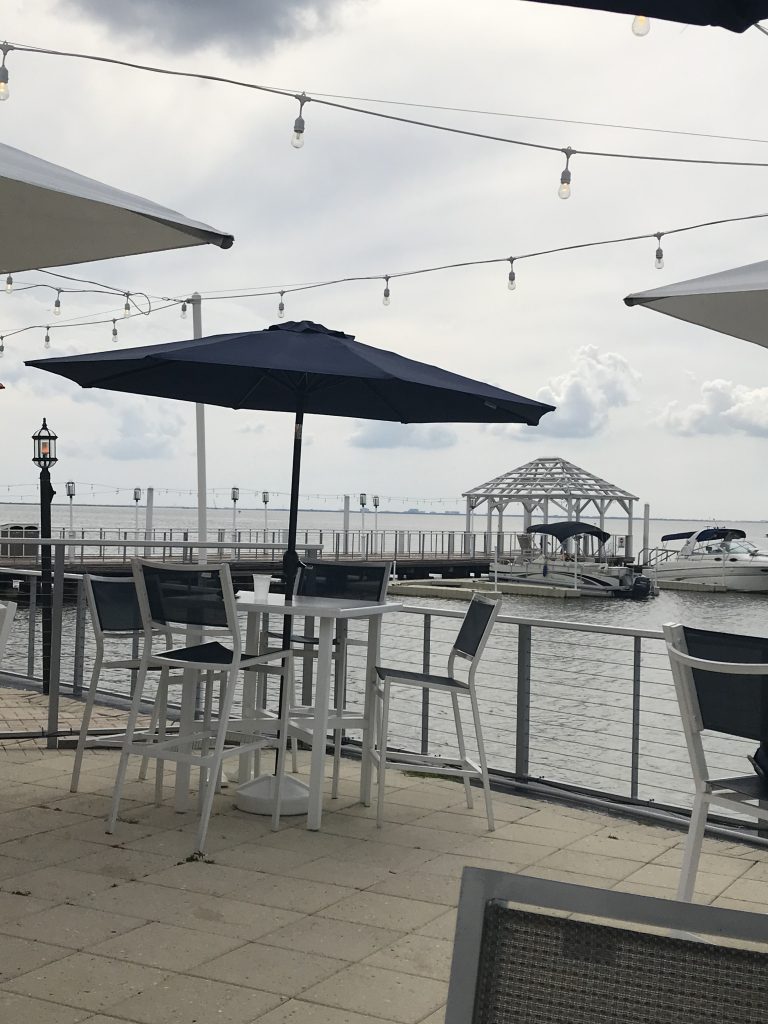 We had limited restaurant choices within walking distance to the hotel and didn't really want to go out and about too much. But each meal we had was enjoyable.
Get Outdoors: Tampa Bay, Florida
I would highly recommend a Tampa FL vacation. From the comfy room to the amazing water view from our 6th floor balcony it was such a relaxing trip. We also enjoyed one of their pools a few times too. We definitely recommend The Godfrey Hotel & Cabanas.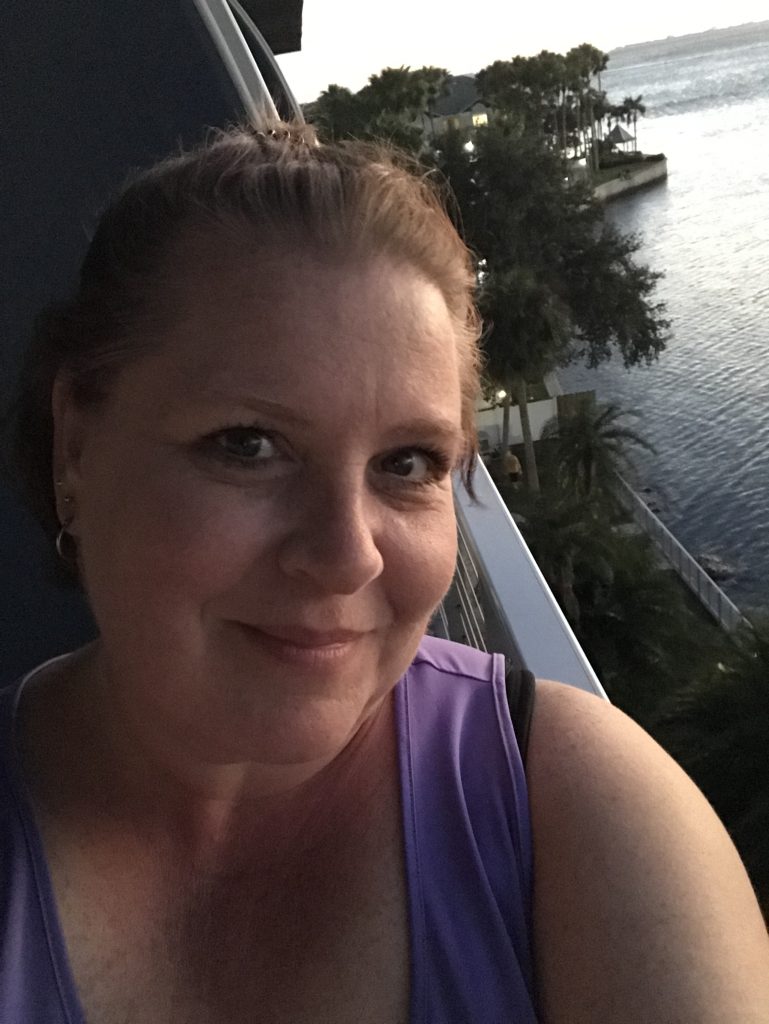 I love palm trees and there were plenty to enjoy. Watching birds, ducks, and even pelicans diving for fish was a blast. This Roseate Spoonbill was so beautiful.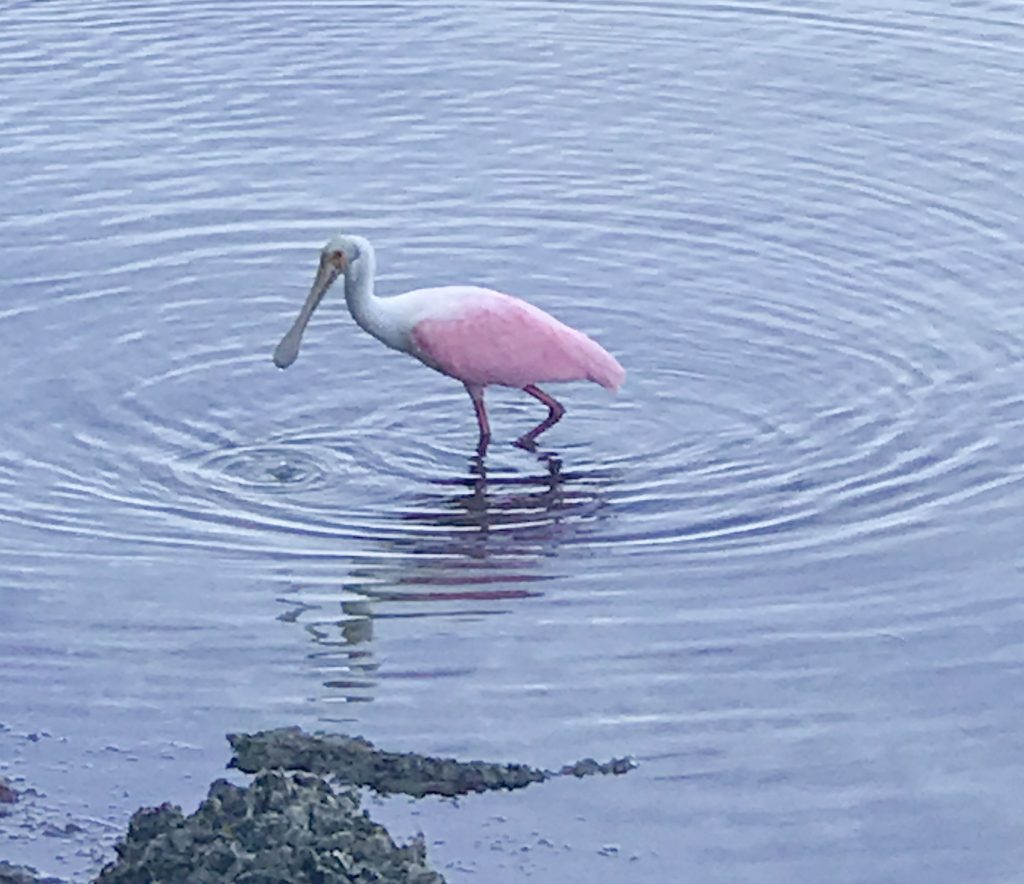 During a break on the balcony, I even saw a shark down in the water. I caught it on video. How I was able to capture that who knows?
According to the gal who rented Kev a kayak, this is a Bonnethead shark. It's a small member of hammerhead. The head is wide like the shape of a shovel, so it's sometimes also called a shovelhead.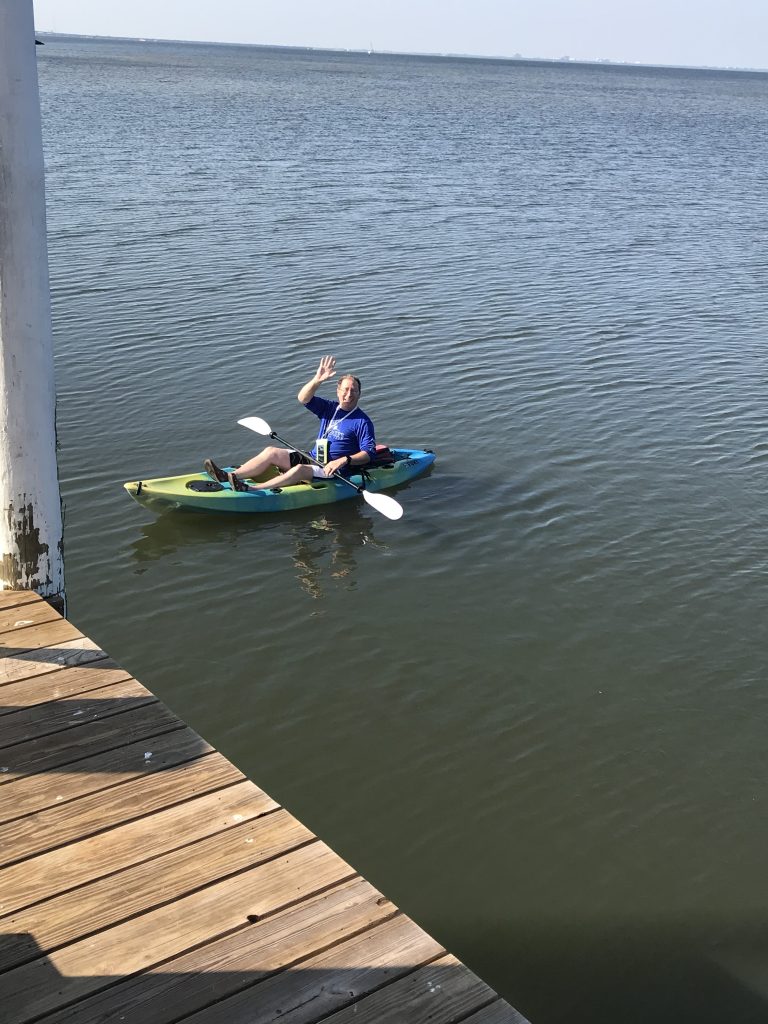 Speaking of kayaking, we were excited to find out there was a kayak rental at the hotel. Kev took a 2 hour solo tour around Tampa Bay and really enjoyed it. I stayed back at the hotel and relaxed outside in their Adirondack chairs and rockers.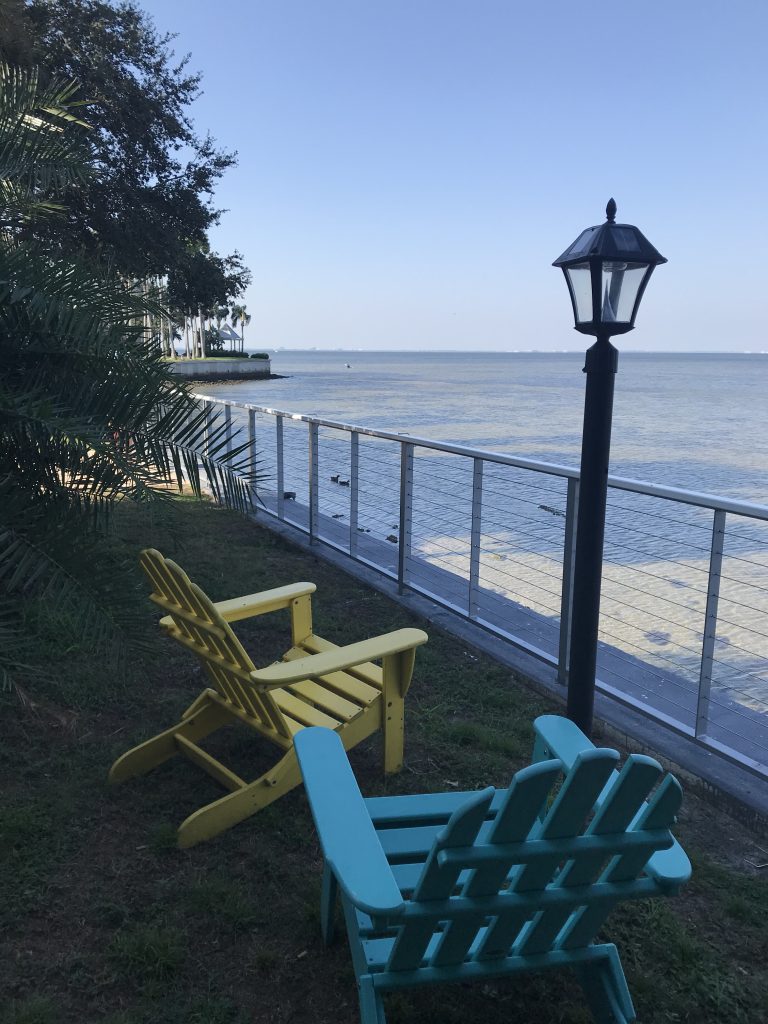 Our trip was definitely relaxing one. We were so thankful to be able to get away during the pandemic while also being very cautious.
*Note: Please travel responsibly should you choose to travel during the pandemic. And if you're going to complain about being required to wear a mask then traveling during this time is probably not for you. *wink*
Ben T. Davis Beach, Tampa Bay, FL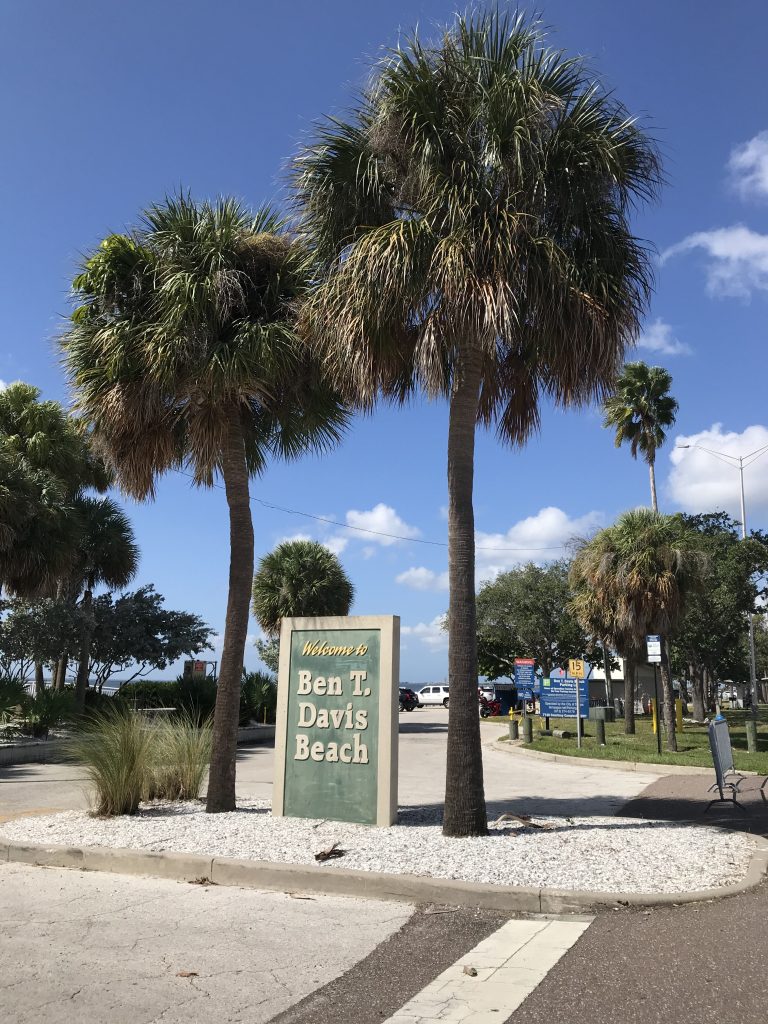 After lunch one day, we went walking down Courtney Campbell Causeway over to Ben T. Davis beach. It was a nice walk and we were lucky to have it close to our hotel. The tide was out and it was really cool how far you could walk out.
Here's one of our last sunsets from Ben T Davis Beach. Breathtaking views in Tampa for sure.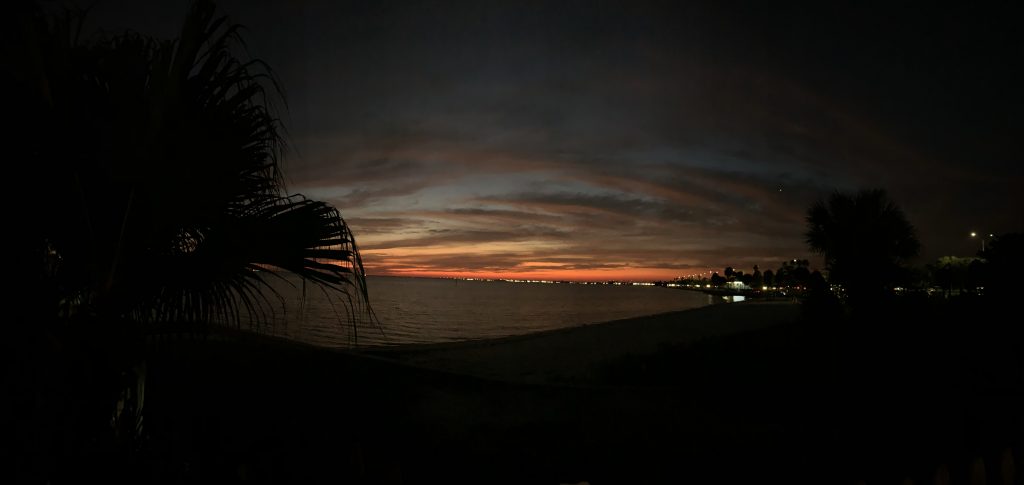 Again, we didn't plan anything touristy during our trip to limit our time around others. I think Tampa, FL was the perfect place for us to follow socially distant guidelines but it sounds like there is a lot more to experience.
See You Soon Tampa, FL
The last morning we were there, we walked over to Starbucks at the Westin Tampa Bay. What a beautiful hotel with a nice view. They have their own little beach area. We also saw a little building where they rent kayaks too.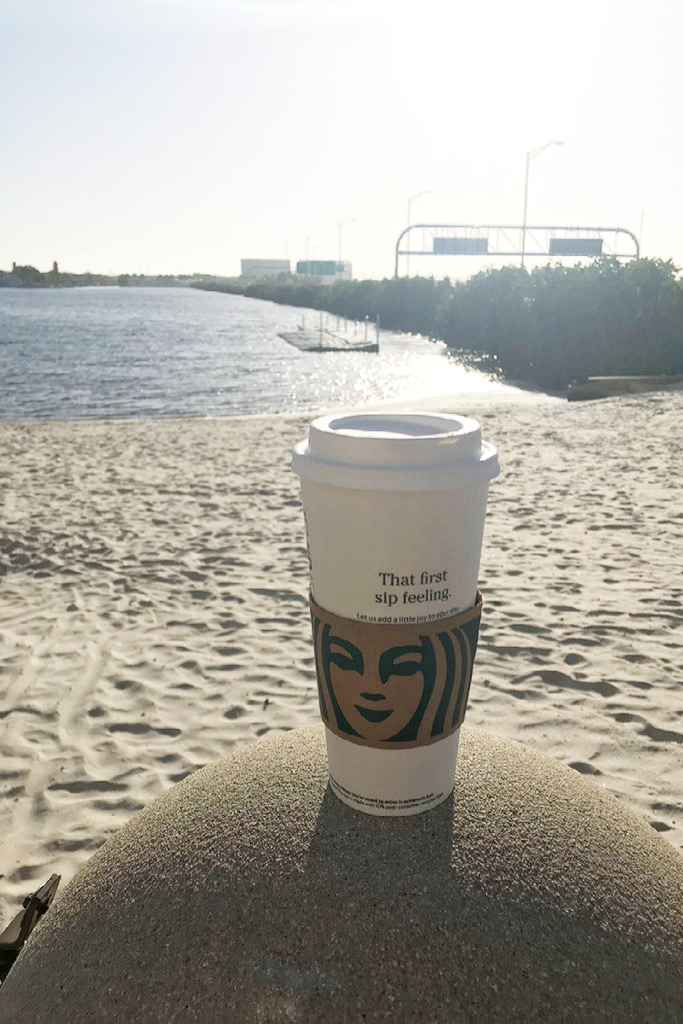 Overall, we had an amazing time. However, we didn't want our Tampa, FL vacation to come to an end. It is definitely somewhere we would love to go back to visit. Or even live!
Do you live in or near Tampa? Are you familiar with the Godfrey Hotel & Cabanas? Have you traveled during the pandemic?
P.S. Please share this post! We appreciate the love.