Disclosure: This post may contain referral/affiliate links.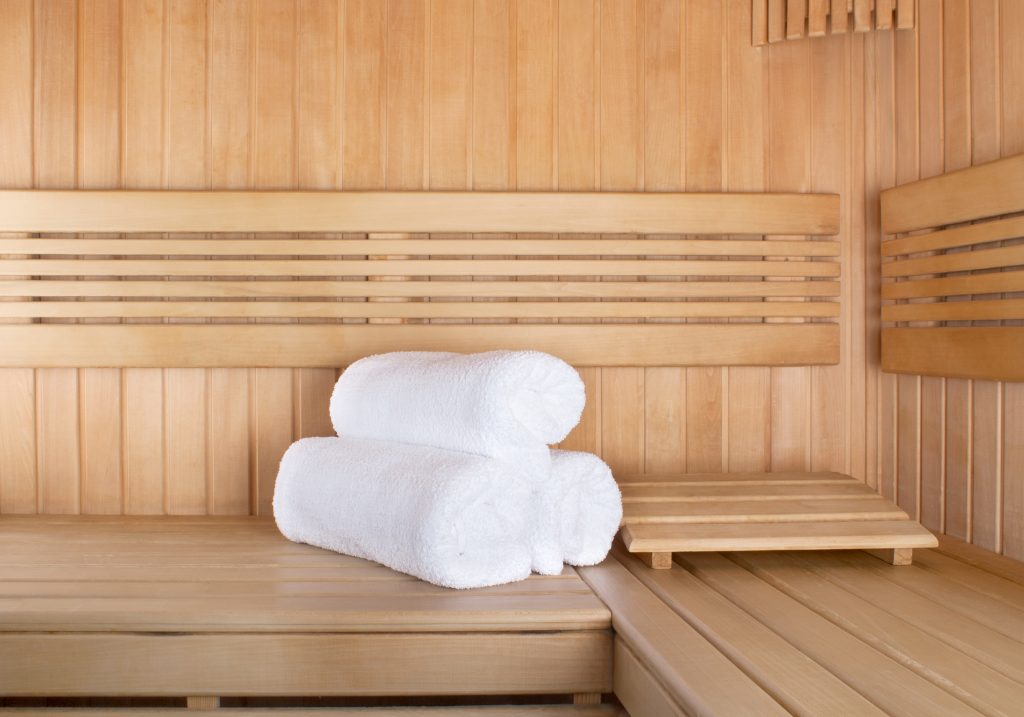 So hubby and I did a thing. We bought an infrared sauna from Sam's Club. We got the Hybrid Cedar Elite 3-4 person Premium Sauna with 9 carbon heaters. Who knew there were so many health benefits of a sauna?
Our Infrared Home Sauna
We put our new infrared home sauna in our home gym (the garage). It was pretty easy to put together but you definitely need two people. You get a "resort-like sauna experience in the comfort of your own home". Why yes, yes you do.
The inside of our new sauna is quite spacious. I'm glad we bought the 3-4 person instead of a 1-2 person. That would have been a tight fit.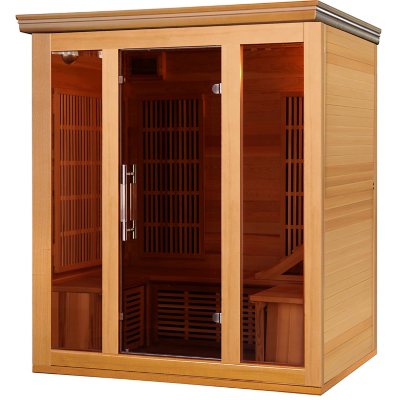 The Hybrid Cedar Elite sauna is made of Canadian red cedar and smells SO good. Isn't she a beauty? It has a full-spectrum, color therapy light and awesome sound system. We can hook up blue tooth. Hubby loves his Spa channel from SirisuXM.
The sauna goes up to 140 degrees F. It has LED interior lighting that we can manage with a remote control. There is a reading light, and ambient lighting on the outside of the sauna. It has a portable back rest too.
I have never been overly excited to get a sauna (I want a hot tub lol) but the more I read about the amazing health benefits of a sauna, the more excited I got.
I'm starting out with 2-3 times a week and never more than 15-20 minutes. At least until I get used to it more. It will be really amazing when we do get the hot tub because we can go from there immediately to the sauna.
Relaxation is important to us. This has been good for us to step away from technology and enjoy more time together. And I have noticed that I sleep a little better after doing a sauna session so there's another bonus. Speaking of sleep, here are the benefits of getting more sleep. We could all use more!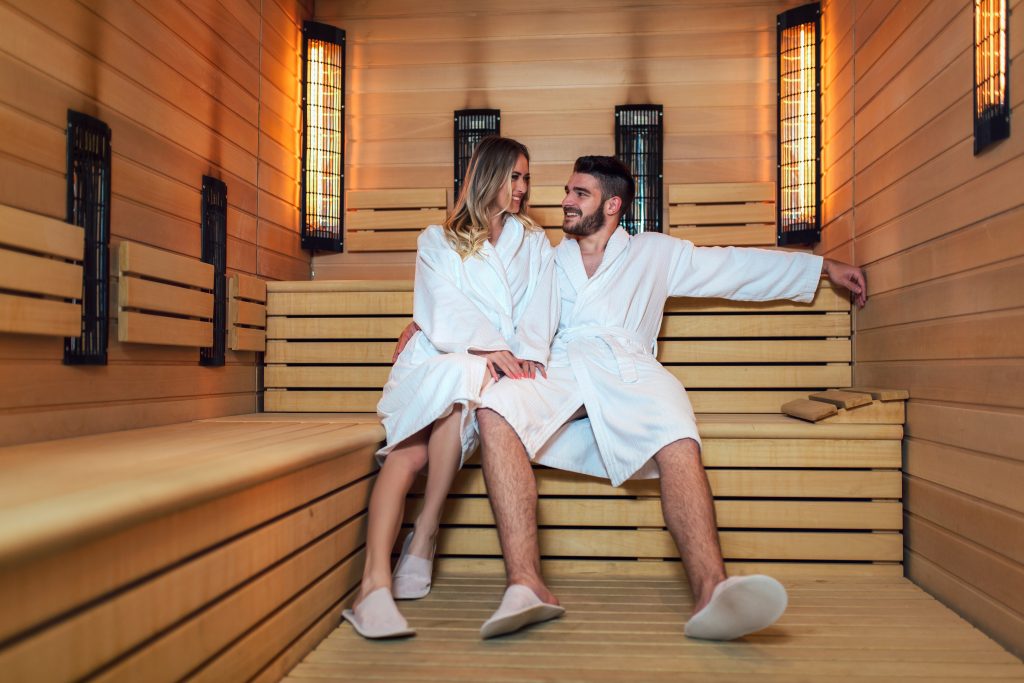 Health Benefits of a Sauna
Here are some amazing benefits I found about sauna use. These are the 10 ways I found they can improve your life.
Helps flush toxins from body
Increases circulation and reduces inflammation
Relieves stress
Helps improve heart function
Helps lower blood pressure
Helps improve/protect your lungs
Helps improve sleep and mood
Helps brain function and memory (I was pleasantly surprised to hear it could help with focus).
It can potentially lower the risk of Alzheimer's and Dementia.
And it can help with fibromyalgia flare ups.
*Note: I have not found much medical evidence of these benefits. I am NOT a doctor so you will want to talk to your physician to see if a sauna would be a good fit for you.
Here is a pin that shows the difference between traditional and infrared saunas.
Sauna Instructions/Usage
It's recommended that you don't shower or take a bath immediately after your time in the sauna. Wait for 10-15 minutes to cool down first. If you have worked out, again wait about 10 minutes before using the sauna.
As a beginner I'm starting off with about 10-15 minutes a few days a week.
Ultimately I would like to go for 20-30 minutes 3 to 5 days a week but will ease into it. I make sure to keep up with my electrolytes because we lose water and electrolytes after sweating.
I drink Ultima a Keto electrolyte drink. It's the best tasting electrolyte drink I have found so far. You can get a variety pack to try them out. Have you tasted Ultima Replenisher?
Hubby likes to stay in about 30-45 minutes. He's spent more time in saunas than me so that's a comfortable time frame for him. He has used saunas when we had gym memberships but I really prefer having our own than sharing one with others.
I feel renewed after spending time in the sauna. I'm really glad we invested in this sauna. Now it's time to kick some butt and work hard so we can add a hot tub to the mix.
Do you have a sauna and/or a hot tub? If you do, what do you love most?
Please pin and share this post.