Disclosure: This post may contain referral/affiliate links.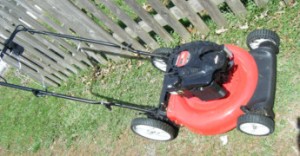 So excited about my new lawn mower.  I know you must think I'm crazy to get excited over something like this but this is one of my best workouts during the summer months and we were in need of a new one. My stepson needed one so we gave him our old one and I got to pick out this new one.  YEA!
This week was a good workout week!
Monday-
*Mowed lawn
Time: 1:09
Calories burned: 973
Tuesday-
*Kathy Smith Staying Strong (DVD)
Time: 1:15
Calories burned: 574
I'm reviewing this DVD and will also be doing a giveaway.  I need to do more strength training and this is a GREAT overall body workout.
*Spin class
Time: 1 hr
Calories burned: 824
Wednesday-
*Walk Away the Pounds Walk Slim 2 mile Fast Start (DVD)
Time: 35 min.
Miles: 2
Calories burned: 434
*Shadow boxing
Time: 16 min.
Calories burned: 214
Total sweat fest!  Have I said how much I love boxing?  Such a great workout!
Thursday-
*Weights/Abs
Time: 26 min.
Calories burned: 236
Leg press, calf press, dead lifts, Bosu squats, hip extensions, other leg work, Swiss ball w/medicine ball throw (partner work with Kev)
I am keeping track of all the reps and weights in my new log book.
*Treadmill
Time: 20 min.
Miles: 1.18
Calories burned: 311
Friday- Day off
Saturday-
*Spin class
Time: 1:05
Calories burned: 848
Almost forgot to weigh in at the gym but did after spin class and did not show a loss.  I know you're supposed to weigh yourself at the same time before eating and exercising and well that didn't happen. So I'm not worried about it but wanted to stay accountable and let you know there was no loss.  I have to remember to get on that scale first thing Sat. mornings at the gym.
Sunday- Day off
Hope all you mom's out there had a great day!  Happy Mother's Day! We had a nice day. Went shopping and picked up Vibram Five Fingers shoes. I'll definitely review those after I use them more.
I have a fun giveaway going to win a vintage kitchen apron, which was going to end at noon today (Sunday) BUT I am extending it until this Tuesday, May 10th at noon central.  It's so simple to enter and would make a great gift or something fun for yourself.  Please tell your friends and family about it.
This week is short for me as we'll be visiting my parent's!  I can't wait, it should be a lot of fun.  Goal is to do Pilates, a spin class, some boxing and a few in home workouts plus mow the lawn again.
What are your goals for the week?