Disclosure: This post may contain referral/affiliate links.
My workout post for the week was delayed because we were visiting my parent's from Thursday to Sunday.  I took a bit of a break from business/blogging, etc.  We initially went to their house to help them move some stuff to their new house but they didn't feel like doing it and wanted a break from weeks of packing, sorting and that comes with moving.  Mom finished radiation a few weeks ago so all they wanted to do was take it easy.
So you know me, I like to find new farmer's markets so we went to one in Spencer, IN.  It was small but had a nice variety. We bought soaps, a housewarming gift for their new house and some other goodies.  I have started container vegetable gardening (tomatoes and bell peppers) and saw a great idea to use old tins and cooking pots for that. I'll blog about my veggie 'gardening' soon.
Then we went and stopped by the Bloomington, IN farmer's market which I have been to before but it was too early for lots of veggies.  Dad and mom took us to Cataract Falls which was so pretty!  The lower falls were closed due to flooding but what we got to experience was amazing.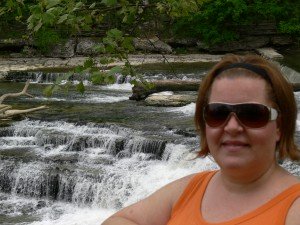 Workouts for last week were OK but I took off Friday- Sunday. I was able to get in a quick boxing workout before we left so that made me happy.  So here is what I accomplished this week.
Monday-
*Treadmill (in my new Vibram Five Fingers)
Time: 15 min.
Calories burned: 181
*Pilates class
Time: 1 hr
Calories burned: 403
Tuesday-
*Spin class
Time: 1:04
Calories burned: 941
Wednesday-
*Mowed lawn (half of yard)
Time: 50 min.
Calories burned: 691
Thursday-
*Shadow Boxing
Time: 20 min.
Calories burned: 254
Friday-Sunday- Off
If you are on my mailing list (see sign up box above right), you'll notice that a mailing did not go out yesterday.  Hope you all had a great week and I'll catch up with you next Sunday.  I also wanted to wish Heather congrats on winning one of the ladies cute kitchen aprons from Jessie Steele.
How did your workouts go last week? And what are your goals for this week?
My goals: 2 spin classes, 3 weight/strength workouts plus other cardio