Disclosure: This post may contain referral/affiliate links.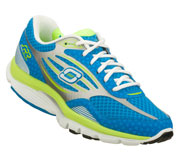 Happy National Running Day!
Many people today are celebrating the day by running races and just getting out there doing the sport they love most.  Here are 10 Ways to Celebrate National Running Day.  I give runners a TON of credit and maybe one day will be able to do it myself.
Of course you'll need a really good pair of shoes and the ProSpeed Skechers running shoe is just what the doctor ordered.  ProSpeed Skechers is a highly sophisticated line that incorporates Smart Shoe (TM) technology, allowing you to run as nature intended.  The proprietary design enables a mid-foot strike which helps your foot get off the ground faster and minimizes injury.  The design stimulates barefoot running.  You can train like a pro with these shoes and the Smart Shoe (TM) technology helps to optimize each stride plus it's lightweight so it's a great training and racing shoe.
I'm actually just about ready for a couple pair of new shoes (running and cross trainers) so the info I'm sharing today comes at the right time.  The more I read about this shoe, the more I like it.  They have a channel on You Tube so you can learn more about them via video (You Tube is not playing friendly with me today, it keeps freezing my computer so I can't link to it)  And I love the color options of these shoes.  I would be torn between the Blue/Green (shown above) and the Charcoal/Lt-Blue one.  There is also Black/White with some pink and Pink too.  Of course these are the women's but they have some pretty cool color options for the guys as well.
Now for the REALLY COOL NEWS…..Skechers has graciously offered up one pair of their ProSpeed Skechers running shoes to giveaway at the end of the 30 Days to Better Healthy Living challenge here on the blog. How fun!  I just updated that post so take a peek.
How will you celebrate National Running Day?