Disclosure: This post may contain referral/affiliate links.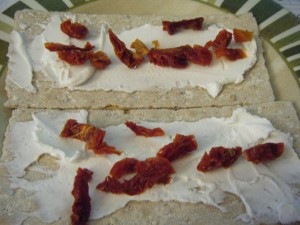 Had a really tasty treat this week!  Will tell you more in my review below.  But first, here are my workouts for the week which are nothing to write home about but I'll get over this hump soon. We are done with the shed and hopefully by the time I return from my business trip next week the garage will be empty and we'll be able to start on the remodel of the home gym garage space.
While on my business trip this week, I hope to get some good workouts in at the hotel gym and I get to go to a Muay Thai Atlanta kickboxing gym.  I was going to get in there and really box but have had some back/neck issues so as of right now, I'm just going to get some boxing training in but you never know.  We'll see how I feel come Wednesday!
Monday-
*Treadmill
Time: 25 min.
Miles: 1.38
Calories burned: 373
Ran 3 two minute intervals in Vibrams.  Life is good!  I'm not going to say it was easy by any means but I feel much more comfortable running now than ever before.
Tuesday- Day off
Wednesday-
*Mowed lawn
Time: 1:10
Calories burned: 1143
Thursday-Sunday-
No formal workouts.  Worked on shed and other stuff around the house.
Wasa Crispbread review:
Over the past two weeks I have had the opportunity to sample some Wasa flatbreads (sent to me free for review). These are amazing and I can't believe I have not had them before now. These flatbreads are baked with heart healthy ingredients and all natural grains.
I have used them in place of bread plus I have put goat cream cheese with various toppings (fresh tomatoes from my garden, Trader Joe's Sun dried tomatoes, etc.).  The thing I love most about these besides the taste is that they are not break your teeth hard crackers. They have a crunch but kind of melt in your mouth. Can't say enough good things about this product. You should check out the Wasa Facebook page for more great recipe ideas.  I'm going to try the Original with peanut butter and banana. Yum!
And the great news is that Wasa has so generously donated a gift pack of Wasa flatbread crackers to us for the September Better Healthy Living challenge here on the blog.  The winner is going to LOVE these!  The 3 pack comes wrapped in a bow in Original, Sesame and Rosemary flavors.  Oh so delicious!  Thank you Wasa!
*title of post says crispbread review but in fact it was the flatbread that I reviewed
Hope everyone had a great week!
What are your workout goals for this coming week?