Disclosure: This post may contain referral/affiliate links.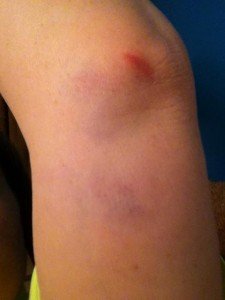 Oh yes I did!
So here I was getting up early in the morning to exercise yesterday because I need to have my workout done before Kev goes to work (so I can take care of our kitty who had surgery). So I head out to the home gym and get set up to start Workout A of the Best Body Bootcamp and online personal training with Tina.
I never workout in the morning!  But I got right out of bed and was excited to start my day with my workout and be done for the day. Well…
The first move involved the Bosu ball (standing on the flat side of it) and I have never had issues with it before but it was very early in the morning for me and I wasn't quite wide awake yet.  I went to step up on the flat side of the Bosu, two 7 lb weights in hand and next to Slam Man so that I had something to hold on to.
All of a sudden, right after stepping up on the Bosu, I slipped right off, fell onto a large metal door piece hitting my left elbow and left side of my bottom.  I also dropped the weights into the wall and split the wall.  I got up a bit shocked and hurting but really didn't want to miss my workout since I just started on this plan. So I waited about 3-5 min. before I went ahead and tried again.
I went on to finish my entire strength and elliptical interval workout however I am paying for it now.  I was in a lot of pain all day yesterday and have some pretty nice black & blue bruises to show for it as you can see in this post.  Nice!  I'll spare you a picture of my backside lol  I had a hard time sleeping last night, every time I turned I hurt.  Really did a number on my butt muscle that is for sure.  So I am skipping my spin workout for today, I'm actually not going to work out at all today.  I'll have to change my training schedule around to make up for it somehow.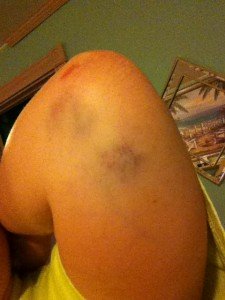 You know, it's just my luck this would happen!  When it rains, it pours.  Wish me luck for the rest of the week.
For the 8 week Best Body Bootcamp, we have to pick two goals for each week.  My goals for this week are to be in bed by 11 PM and to eat breakfast every morning.  Already thinking about my goals for the remaining 7 weeks.
Off to take care of kitty who has to wear a cone and he's not liking that one bit.  He is a little Houdini and wouldn't keep the plastic one on so they gave us a cloth one to try today.  He's been pulling out his stitches.  Couldn't wait until next Friday when he's due to get them out.
Hope you're having a great week!
Anything exciting happen to you lately? *wink*