Disclosure: This post may contain referral/affiliate links.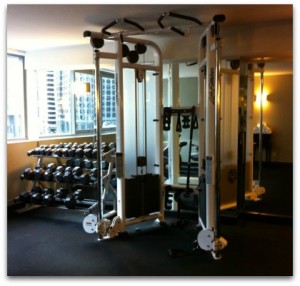 How To Stay In Shape While On the Road
Staying in shape while traveling is important.  Recently we have been traveling quite a bit with more trips in the works and I like to stay active while on the road if at all possible.  Whether it be working out at a hotel, walking around a fun city or water sports in the Caribbean, it all counts as fitness to me.
I like to prepare in advance so I make sure to check out the hotel website to find out about their fitness options, print out any workouts I need, start a list on what accessories to pack and I like to try to find healthy food options as well.  I had a friend take me to Trader Joe's on one of my last business trips and I was able to stock up on some healthy snacks plus it helped save money on daily hotel breakfasts.  Back to exercise…
Hotel Room Workouts
I personally like to wake up and get my workout in quick.  I try to always utilize the hotel fitness centers but sometimes I just don't feel like getting everything together to go workout in a hotel gym especially when I have a busy weekend with conference sessions, if I'm traveling alone, etc.
Now don't get me wrong, I do love a nice hotel fitness center however hotel room workouts intrigue me a lot more.  I like the fact I can just wake up, throw on on my workout clothes and get moving.  And then hop right into the shower afterwards.  Very convenient!
I like to bring various items like bands and weights (when we are driving) or print out workouts I find on Pinterest that don't require any equipment and that I can easily do in the hotel room.
Which brings me to a great experience we had this past weekend. We were invited to stay at Chicago's Hotel 71, in one of their fitness suites.  Our suite had an elliptical and it's awesome to be able to hop on any time you feel like it.  We still spent some time in their fitness center too (the view was stunning) but I loved the fitness suite option.  Here is my review of Hotel 71, Chicago's fitness suite.
Easy Fitness Tips for Travelers
Here are some additional exercise tips for travelers.  There are so many options, so choose what fits you best.
Bring weights and/or other fitness accessories like stretch bands, yoga mat, etc. to use in your hotel room
Print out quick HIIT (high intensity interval training) workouts from Pinterest
Scout out hotels with fitness centers/fitness suites
Look for local gyms and ask for a weekly pass
Take the stairs
Do some city walking
Do other fun activities like swimming, tennis, snorkeling, etc.
Take your iPad and use apps like Gaiam TV (you can try Gaiam TV for free and instantly stream online workout and cardio videos on your computer, iPad or iPhone)
Those are the best ideas that help me stay active while I'm traveling.

Do you have any easy fitness tips for when you're on the road?