Disclosure: This post may contain referral/affiliate links.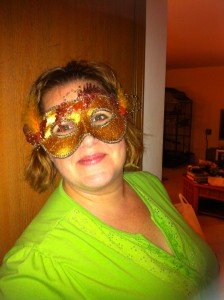 Today I did a video but for some reason I'm having technical errors.  No wonder I never do video!  Anyway, I was in my Halloween mask and I wished you all a Happy Halloween and told you that I have been really good this Halloween.
I left the bags of candy in the guest room UNOPENED all week and have not had a single piece of candy.  We don't have many trick or treater's tonight so I'm giving double to them when they do come. I have a feeling Kev will be taking a big bag to work with him unless our neighbor stops by and I just unload it all on him.
I always like to say all things in moderation but I have been doing really good lately and Halloween candy is just not something I am craving. Now offer me some sushi or a York mint ice cream patty (split with Kev of course) then I might be interested. But I'm going to go ahead and pass on any Halloween candy.
IF I did have Halloween candy my choice would be Reese's Peanut Butter cups (and I didn't even get any of those to hand out). Oh boy they are sinful.  If I crave those, I'll make my own homemade chocolate peanut butter cups.
Did you have any Halloween candy?  What is your favorite candy?