Disclosure: This post may contain referral/affiliate links.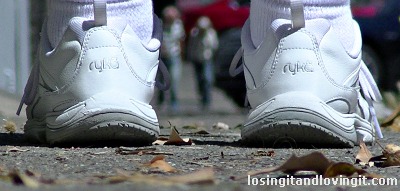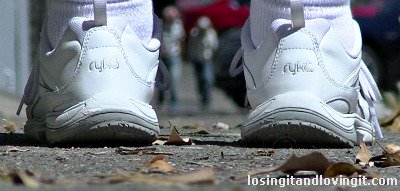 A Walking Workout
Do you know that numerous people decide to take up walking each and every year? The sad part is that many people don't continue with this healthy habit (me being one of them). So what can you do to ensure that you continue walking through all the seasons?
The best way to start a new walking routine is to plan for it. Work out the best time of day to walk including for how long. If you aren't accustomed to walking or exercising start small and work up. The worst thing you can do is walk for 2 hours your first time out. You will end up sore and you probably won't be motivated to go for another walk!
Ready for a walking routine to lose weight? Now is the perfect time to get started with your walking plan for a few reasons.
The Seasons
Walking during the summer heat is one of the main reasons that people give up. The sun can be a bit harsh and humid air can make it difficult to breathe. To combat this you want to plan your walks around the heat and avoid the hottest times of the day. Plan to walk during the early morning or as the sun is setting.
After being cooped up during a long winter season, I know we are all itching to get outside and enjoy the warmer air. It makes perfect sense to get outside as soon as the weather permits. By spring hopefully all of the snow has melted in your area. This makes it easier to walk, the pathways are much drier and you don't have to worry about falling on ice.
Of course the lure of spring should be enough to make you want to get out and walk. Who doesn't want to enjoy the trees budding, the birds chirping, the fragrant air and flowers starting to emerge from the dark cold ground?
We all have different seasons/weather to contend with so work with what you have!
As you start walking, make an effort to walk every day if possible. If not then try for at least 3 times a week and increase as time goes on. If you walk regularly for at least 3 weeks, walking will become a habit, which you don't want to break.
If you start out early in the morning you might take along a jacket that can be removed if you start to get too hot. Take water with you so that you stay hydrated and don't forget to wear sunscreen.
When the temperatures are really hot aim to walk early in the morning, even if this means getting up a little earlier. Why not get up with the sunrise and find a place where you can watch it rise each morning.
Or if you are lucky enough to have a home gym and/or treadmill, use that.  Another thing I love to do is use Walk Away the Pounds
videos.  I lost my first 70 lbs using them when I first started living a healthier lifestyle.
Walking is a fantastic way to explore your neighborhood, meet new people, enjoy the fresh air all while reaping the health benefits. So why not start walking now and continue all year long?
Walking is also easy on your joints and requires no special equipment. It's the perfect solution to get juice in your joints and helps improve your cardiovascular system. Plus it lowers your risk of heart attack and stroke!
Try to throw in a small hill here and there to help increase stamina and burn more calories.
Your Walking Workout Plan:
1) Get a good pair of walking shoes
(I love Ryka shoes for women, their cross trainers and walking shoes)

2) Choose a fun walking activity like any the following:
Take the stairs
Walk outside
Use a treadmill
Walk Away the Pounds videos
Mow the lawn
Walk a race (5k, 10k, half marathon)
3) Find a walking buddy
Sometimes it's great to have a workout buddy.  It sure is a lot safer to walk with someone when you are outdoors. Walking partners can encourage each other to keep going too.
4) Plan your walking route
Before leaving home, have a plan to where you'll go and for how long. Just don't forget you have to turn around and come back.  Might be best to start with 15 min. out and 15 min. back.  Be sure to change up your walking route too (another safety measure not to mention you'll keep things fresh).
Drink up!  Our go to water bottles are by Camelbak
. These bottles have held up the best for us over the years.  It's actually about time for some replacements!
So there you have it, some tips to help you with your walking routine to lose weight. Now get out there and join this month's daily fitness challenge.
What are your favorite walking activities?