Disclosure: This post may contain referral/affiliate links.
Check out my top 5 healthy walking tips below. And be sure to comment with yours too. It's really important that you follow these basic walking tips when you start any kind of walking program. Walking is a great workout and something most everyone can do.
*If you're new to working out be sure to check with your doctor before starting any exercise program.
Stay Hydrated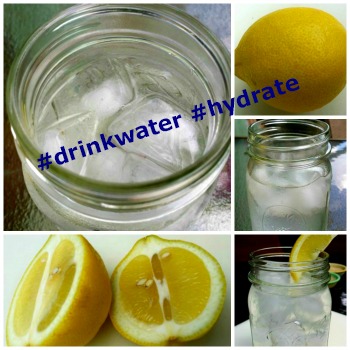 Make sure to stay hydrated when you're working out. You don't need a ton of water but I like to sip on water throughout my entire workout. I don't usually chug it unless I have done a major butt kicking workout like spinning or boxing. I like to carry a water bottle with me everywhere. Here are some tips on how to stay hydrated. I had tried drinking lemon water at the start of every day for a couple weeks but got out of the habit. And yes you CAN drink too much water so beware of water intoxication.
Keep Track of Your Workouts
I like to keep track of my workouts in a personal planner and on a magnetic whiteboard. I just bought this one and love it. I like to track my daily miles/steps, time etc. and any other workouts I might do in a planner and on the whiteboard even though my Polar fitness watch keeps track when I connect to my iPhone and the Polar app.
I might even attempt to use a bullet journal like this:
Use a Fitness Tracker

A fitness tracker is really important to keep an eye on your heart rate, steps, daily calories and more. I have used Fitbit in the past but always return to my tried and true, Polar fitness trackers. Kev and I are currently using the Polar M430 but have used many others that were just as good.
I'm a Polar ambassador so I get to try out their fitness watches so if you have any questions please ask.

Walking Warm Up/Cool Down
Be sure to do warm-ups before hitting the pavement. I usually walk indoors with a Walk Away the Pounds workout so it covers the warm up and cool down but here are some stretches for before and after walking. You might also find this video helpful. Simple yet effective stretches you can do before and after walking.
Choose a Good Pair of Shoes
I have tried quite the variety of walking shoes over the years. Some of my favorites so far are Ryka walking shoes (I had the Ryka Intent XT) and their cross trainers. I'm currently wearing Fila Memory Cool walking shoes (my favorite so far) but I'm ready for a new pair. I wear New Balance training shoes too. I like having separate walking shoes though. It's very important to buy quality fitness and walking shoes.
And let me tell you, I have been searching for a new pair of walking shoes and will have a post coming with my research. I have a huge list of walking shoes I am looking at. This list started because no one has the Fila Memory Cool walking shoes I mentioned above. I found them in size 5 but I'm 9 1/2 wide. Out of luck.
And don't forget a good pair of moisture-wicking socks! I love Thorlo Experia socks and am trying a few other brands out right now.
These are just some basic healthy walking tips that are simple to follow. Hopefully they helped you!

Have you joined the this month's 30-day walking challenge yet? If not, read this and join in. It's never too late. Let's have a rockin' walking month.
Do you have any healthy walking tips to share?