Disclosure: This post may contain referral/affiliate links.

Here is the 3rd 30 day challenge check in. All you need to do is comment on this post to let us know what one new thing you did for the previous week. It would be great if you could blog about it on your blog, link to the main 30 Days to Better Healthy Living Challenge post and then drop the link to your blog post here in the comments. Don't worry if there is a delay, I usually have to approve them. If you don't have a blog, feel free to just comment with the one new thing you did this week.
Did you step out of your comfort zone and try a new workout? Make a new healthy recipe? Whatever it was, let us know about it.
Third drawing will take place tomorrow (Wednesday) from all who check in to win another fun prize.
You can read all the challenge rules in this post. Hope you're enjoying the challenge.
This week, I'm sad to say that the back issue was not resolved so I didn't participate once again.  Unless of course it counts that we bought 2 spin bikes and a treadmill and are starting to plan out the design of our new home gym garage space.  So excited!
I also had a box of goodies sent to me by Snackwell's for review and they offered to also do a goodie box giveaway for one of the challenge participants.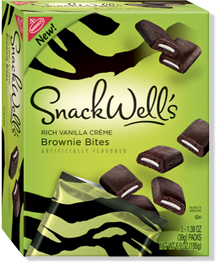 The newest Snackwell's treats are so good.  The Fudge & Rich Vanilla Creme Brownie Bites and the Fudge & White Fudge drizzled caramel popcorn packs are TASTY!  I like them because they are quick and a controlled portion.  The ingredients are not the best but once in a while, I think a special treat is just fine.  My favorite out of them all is the Fudge Brownie Bites. Thanks Snackwell's for the sample boxes and prize donation. You rock!