Disclosure: This post may contain referral/affiliate links.
The Paleo Diet
If you haven't heard of the paleo diet, you can read the What is the Paleo diet? post I wrote for Angie last week where I explain what the paleo diet is in more detail. But today I wanted to share what a typical day might look like on the paleo diet.
Why?
Because people who have never heard of the paleo diet always wonder exactly what you might eat when you can't eat all those non paleo diet foods. So to make it easy I thought I'd just include some pictures of what a typical day of paleo meals might look like on my plate.
Breakfast- A bountiful serve of bacon, scrambled eggs and freshly cooked salsa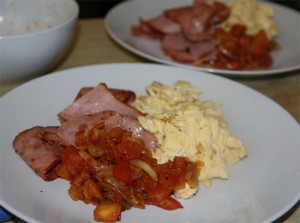 Snack – Nuts, seeds and a few raisins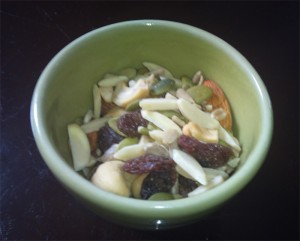 Lunch – Spicy chicken served over a bed of lettuce and topped with avocado and a drizzle of olive oil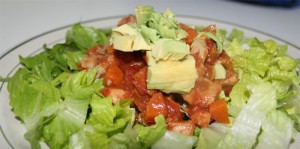 Dinner – A delicious plate of spaghetti bolognaise – without the spaghetti because that's not paleo friendly. Instead this bolognaise is served on a bed of tasty sautéed cabbage noodles.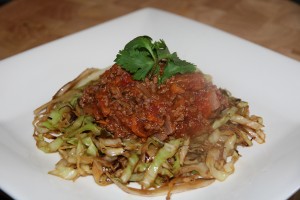 You can get the recipe for this paleo meal right here on Angie's blog.
And of course don't forget to keep healthy snacks handy. This is essential to any weight loss success!
Snacks I keep handy at work.
Some tinned salmon and tuna, apples or fruit, and a bag of nuts.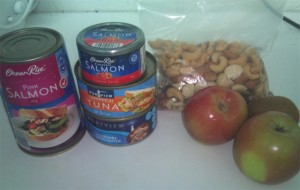 As you can see from the above day of eating, the paleo diet and lifestyle is far from boring. Anyway I hope that gives you a good idea on what the paleo diet is all about.
If you want more info about it you can visit my paleo diet blog and if you sign up for my newsletter you will receive a free paleo diet food list and a snack ideas list too. This will give you lots of ideas for healthy snack ideas no matter what diet you're on!